Duckworks first annual Messabout
Corpus Christi, Texas, USA
May 17, 2003
at Padre Island National Seashore, Bird Island Basin.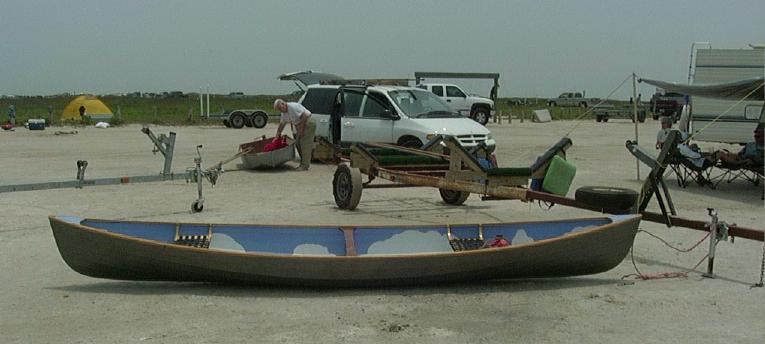 David Hetrick attends the Sabot upon arrival at site.
---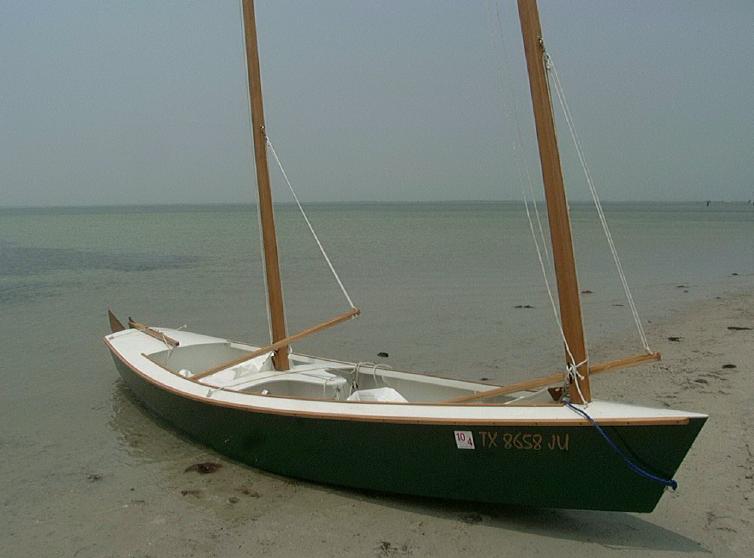 John's Sharpie - built and owned by Charlie Jones.
---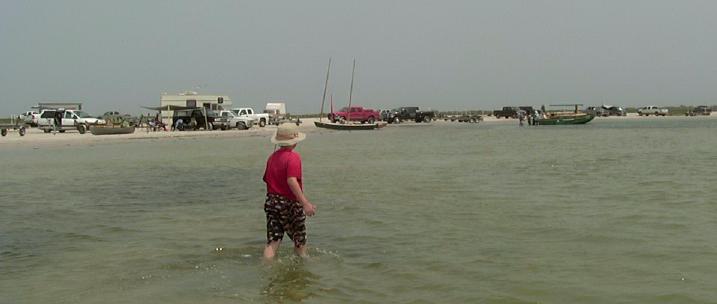 Joseph Mittelstaedt wading at the messabout site. This place has a good sand and grass bottom, with plenty of little fish and crabs to see.
---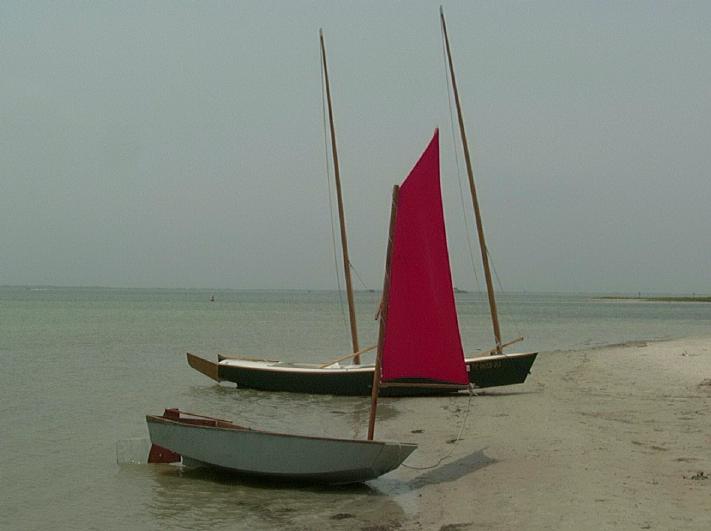 The 30 year old Sabot hull with Optimist rig, tip-up rudder and clamp-on leeboard, constructed by Gerard Mittelstaedt,
next to John's Sharpie, a CLC design put very artfully constructed by Charlie Jones.
---


Chuck Leinweber's Caprice
---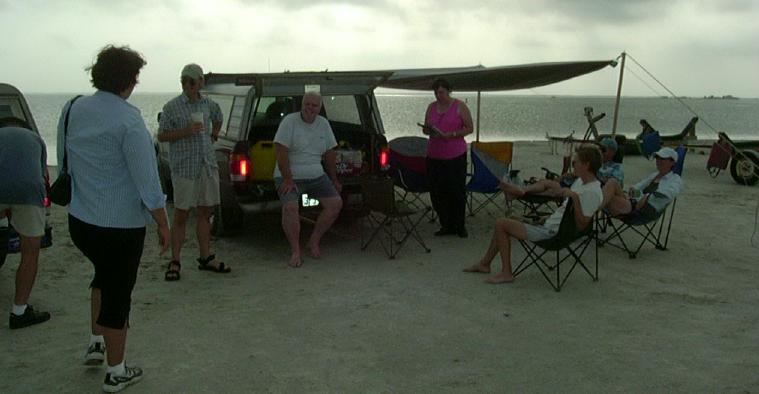 The group relaxing, Saturday evening.
---
Those who attended were:
Chuck and Sandra Leinweber from Harper, TX - brought his Michalek designed Caprice
Charlie and Laura Jones from Magnolia Beach, TX. - brought their CLC designed John's Boat
Gerard, Mona, and Joseph Mittelstadt, along with David Hetrick all from McAllen, TX - brought his elderly Sabot dingy
Tom and Yvonne Welther from Los Fresnos, TX - who is currently building a Michalek designed Piccup


The Mittelstaedt's, David Hetrick, and the Welther's made it a day trip.
The Leinweber's and Jones' overnighted and sailed again on Sunday.
A good time, and great fellowship was had by all.
---
Messabout and Texas 200 index page
Duckworks 2004 Messabout - at Magnolia Beach, Texas
Duckworks 2005 Messabout - at Magnolia Beach, Texas
2006 Duckworks Messabout - and Puddle Duck Race - Magnolia Beach, TX
- including cruise up from Rockport, TX.
2007 Duckworks Messabout - Magnolia Beach, TX - near Victoria, TX
2008 Duckworks Messabout - Magnolia Beach, TX - near Victoria, TX
and The end of the first Texas 200 cruise
2009 Duckworks Messabout - Magnolia Beach, TX - near Victoria, TX
and The end of the 2009 Texas 200 cruise
the 2009 Texas 200 by Andrew Linn - PD Racer fleet with others

2010 Duckworks Messabout - Magnolia Beach, TX - near Victoria, TX
and The end of the 2009 Texas 200 cruise
Texas 200 in 2010 map etc.
the 2010 Texas 200 by Andrew Linn - and the pink Laguna - Laguna Sink-o

Texas 200 in 2011 Port Isabel, TX - to - Seadrift, TX
Duckworks report on Texas 200 in 2011

Texas 200 in 2012 Port Isabel, TX - to - Seadrift, TX
---
Other narratives
the 2006 pre-Texas200 Gerard - Noel - Luis

the 2010 Texas 200 by Andrew Linn - PD Racer fleet with others

the 2010 Texas 200 by Andrew Linn - and the pink Laguna - Laguna Sink-o
---