These boats are built right side up which is different from most small boat building in USA
which is built on a strong back upside down until the hull is fairly well together, then turned
right side up for finishing.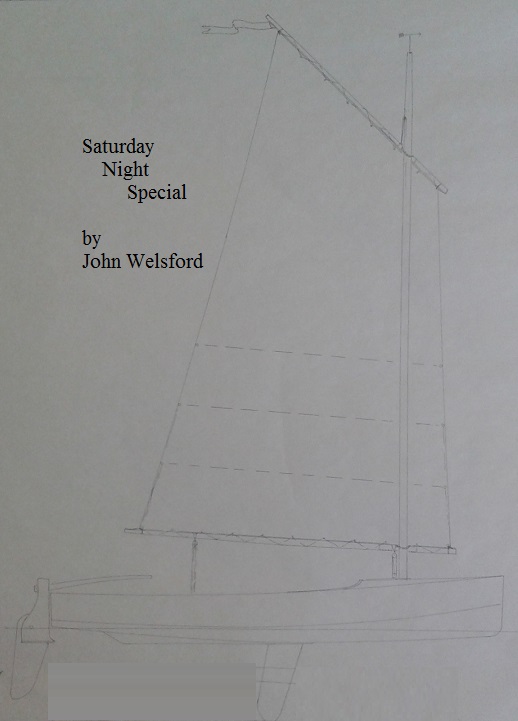 ~ ~ ~ ~ ~ ~ ~ ~ ~ ~ ~ The Build - Session 1 ~ ~ ~ ~ ~ ~ ~ ~ ~ ~ ~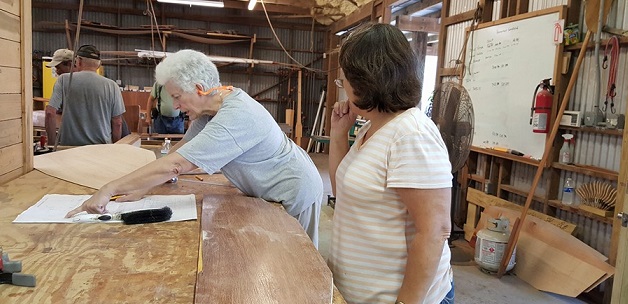 Christine and Leslie working with plans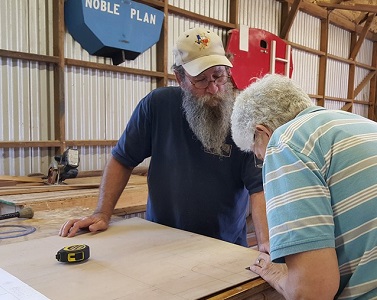 Ray and Christine study plans.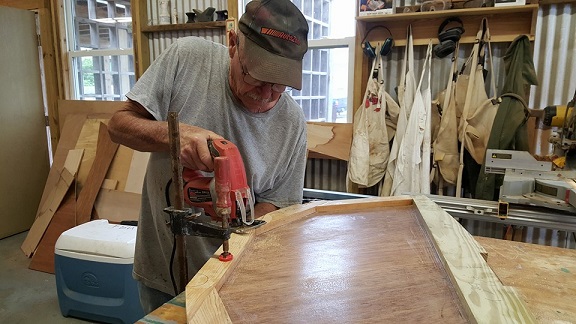 Charlie cutting a chine notch


Bottom planks mounted on building strongback beginning to receive other parts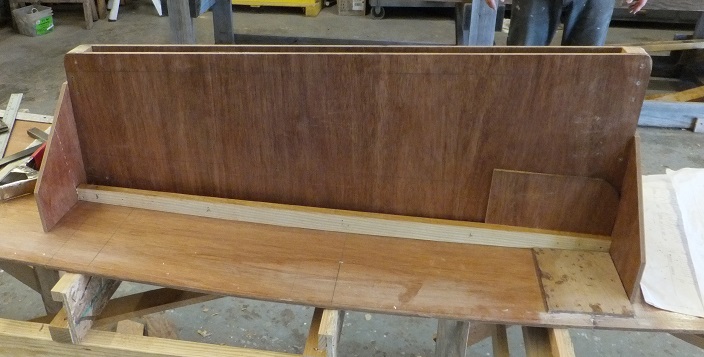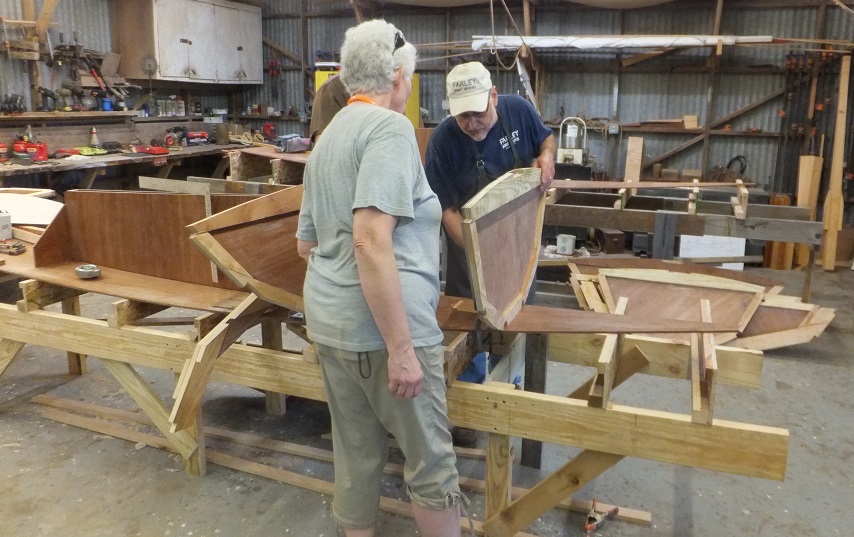 Setting bulkheads on bottom - Christine and Frank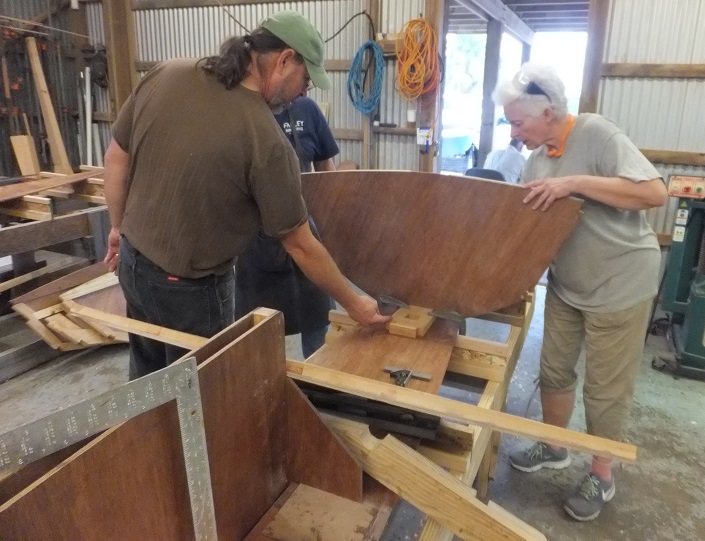 Bulkhead with attached mast step.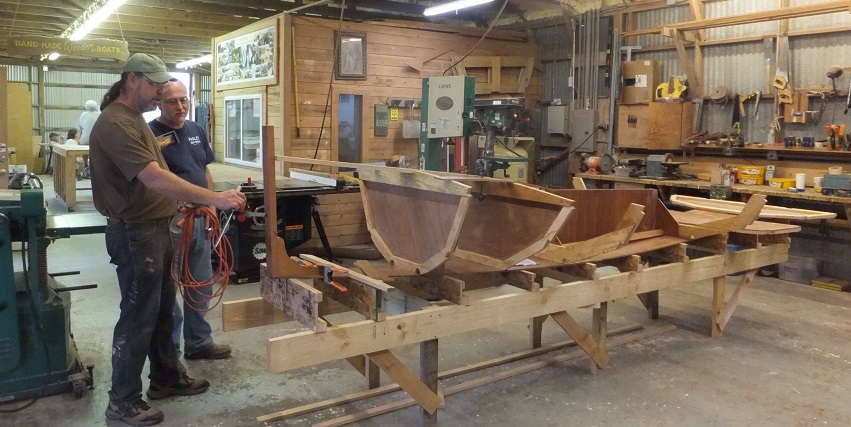 Placing the stem.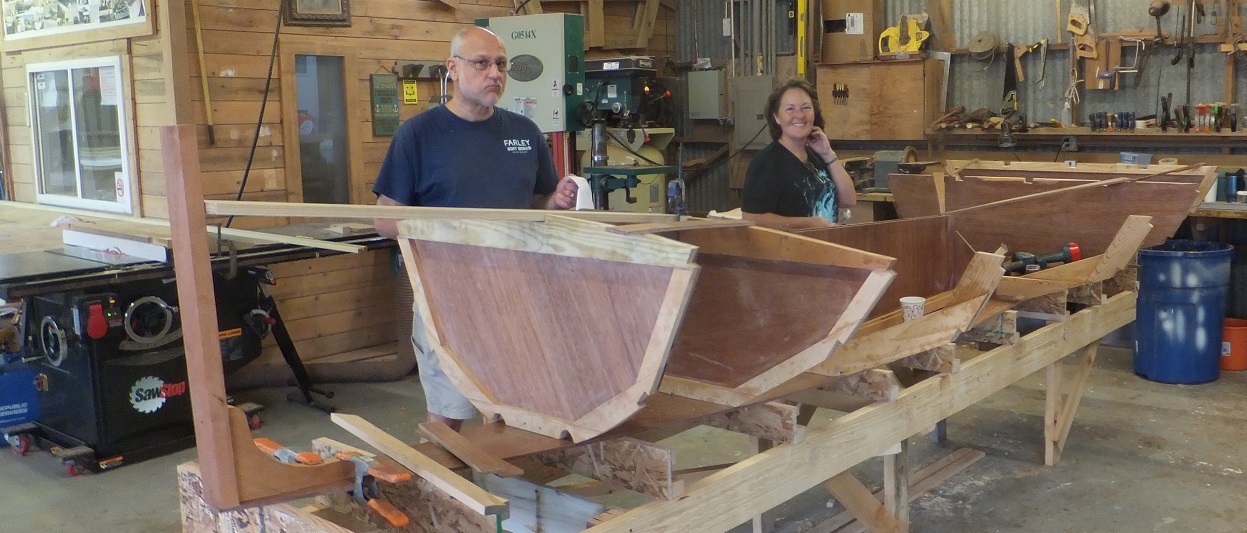 First stringer (gunwale) handling.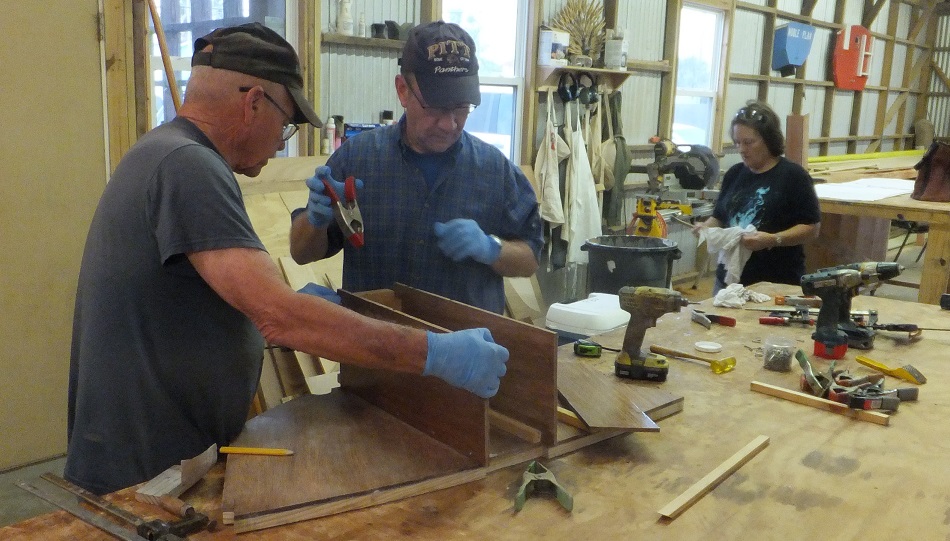 Mast Step Box - fitting and gluing - Charlie and Mark

Gluing in the Centerboard Case. Lezlie and Mark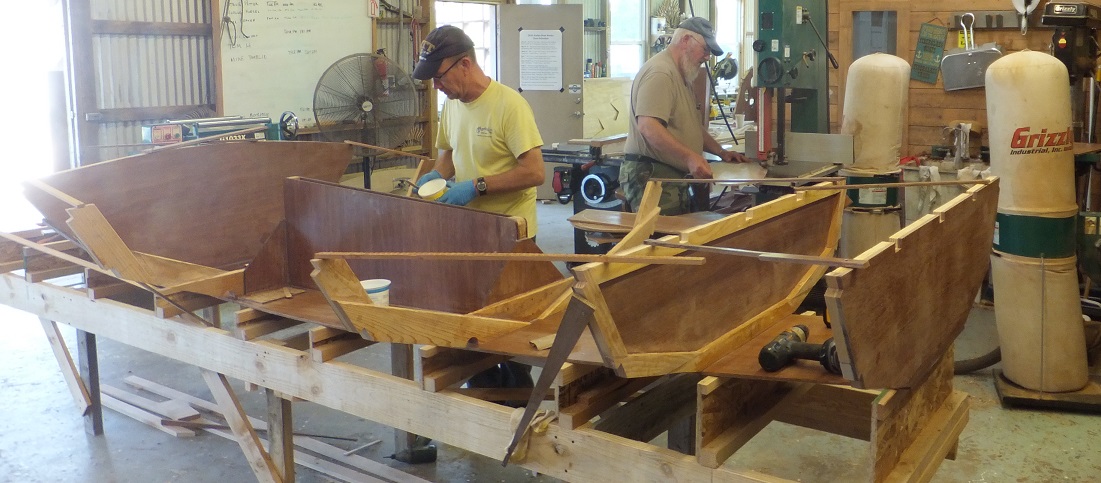 Bulkheads and frames braced before stringers attached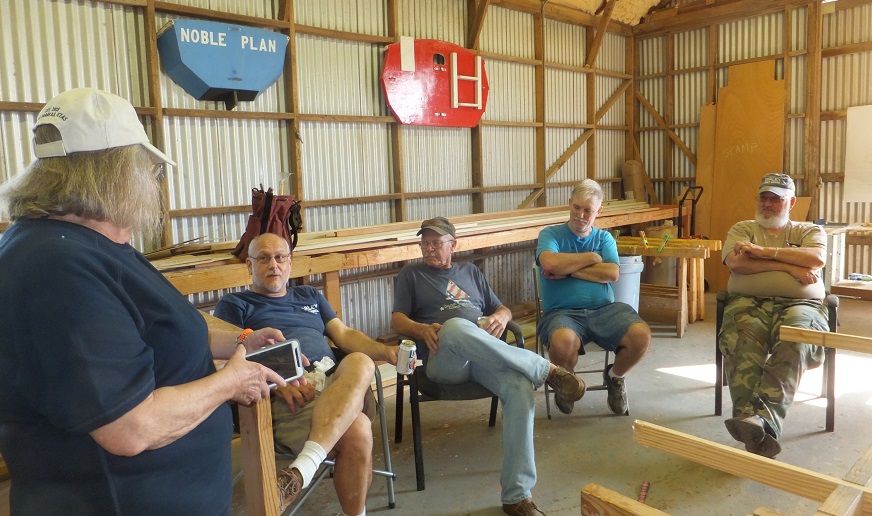 Jackie addressing some builders at end of day session.
At the end of each building session the builders relaxed and chatted
before the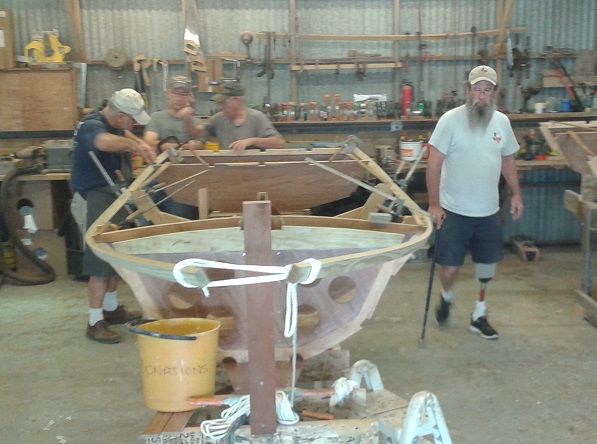 fitting top stringer (gunwale) - Frank far left - Ray far right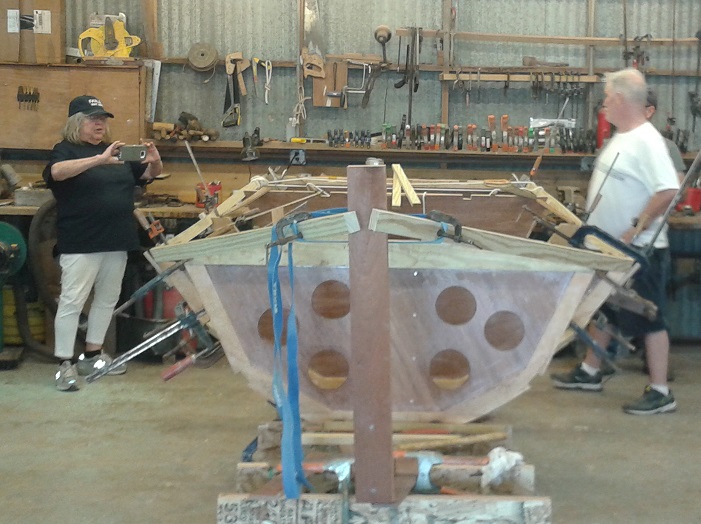 Jackie records progress


Gunwale and chine stringers on - original fit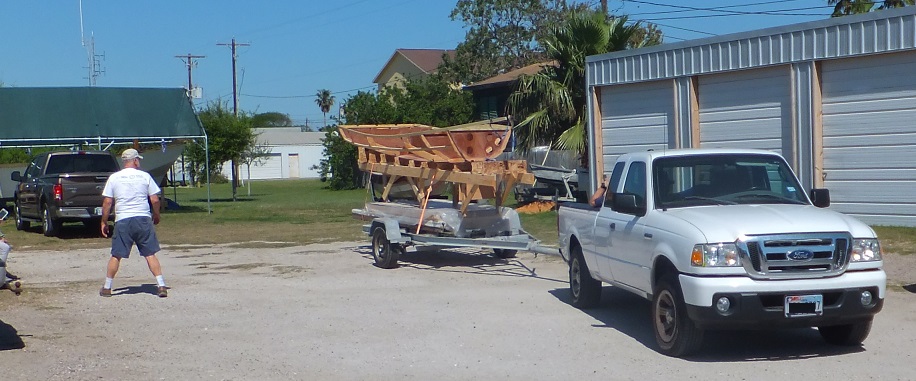 Moving one SNS frame to storage at end of first build session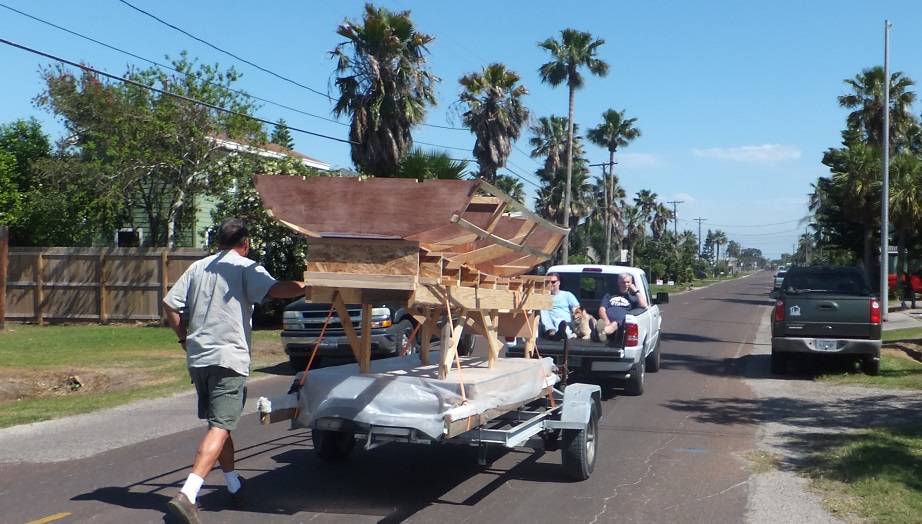 One of the hulls was moved to storage to make space in the workshop
for other activities, leaving one in the active work area to continue the build on that one.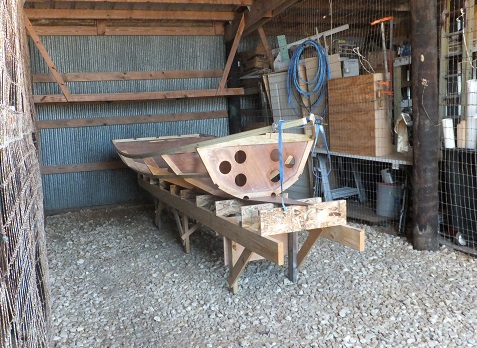 The stored SNS frame snug in its temporary home.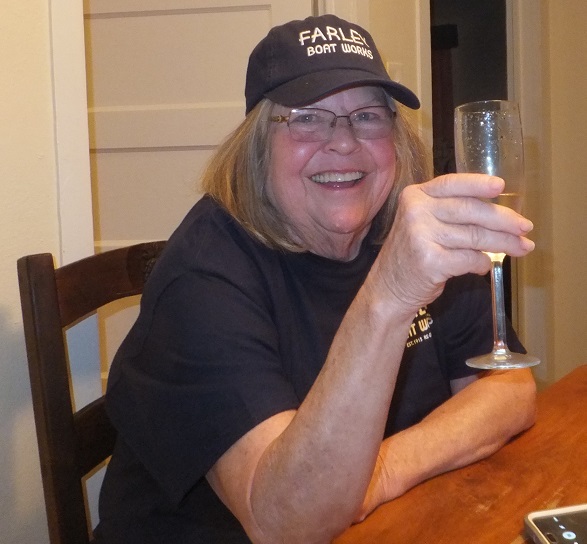 Jackie celebrating the end of the first part of the SNS build.
---
~ ~ ~ ~ ~ ~ ~ ~ ~ Second Building Session ~ ~ ~ 21 April - 30 April 2016 ~ ~ ~ ~ ~ ~ ~ ~ ~


Gunwale and chine stringers after lofting problem fixed.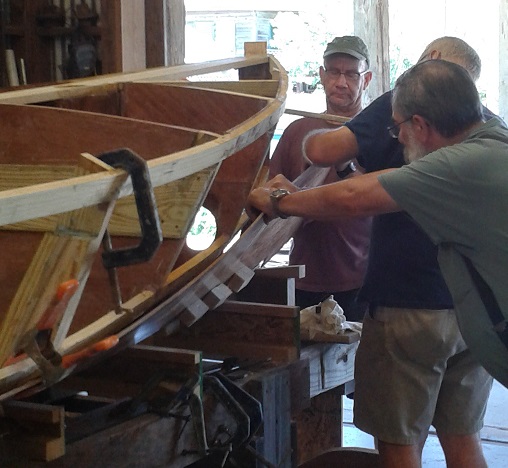 Bending and twisting lower Starboard side into place
Mark, Frank, Gerard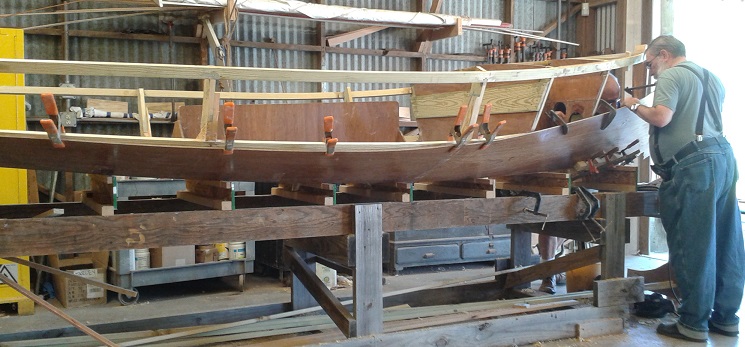 That board (perhaps a garboard) clamped into place.
---

~ ~ ~ The Birds Mouth Mast ~ ~ ~

Birds Mouth mast Staves - Frank and Charlie
Some of these are a single piece cut from a board.
Others were cut from the same board but had imperfictions.
These imperfections were cut out, the shorter pieces scarfed together to make full length staves.
A scarf cutting jig was made to use on the table saw and cut the scarf angles for the put-together staves.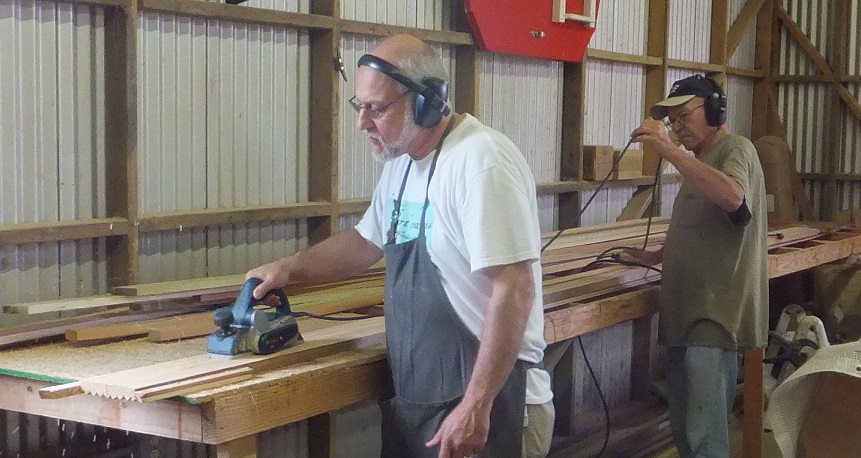 Narrowing one end of staves to create a mast smaller diameter on the top.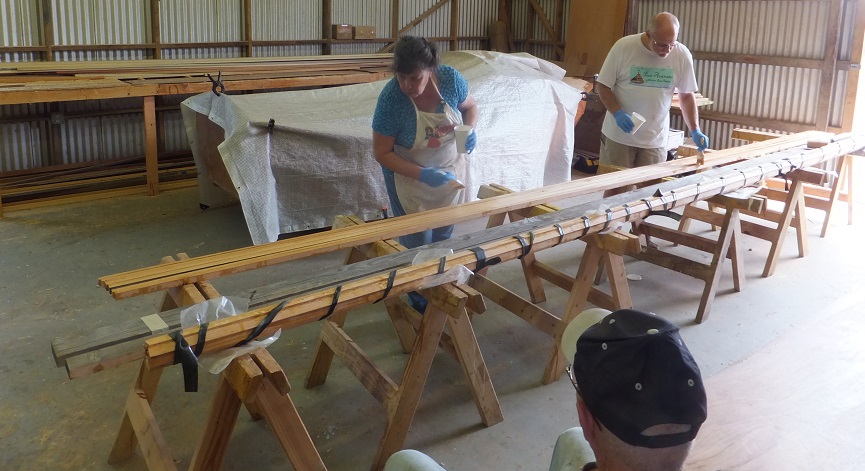 Beginning to glue up the staves for the second mast.
First one is glued and rubber-banded together.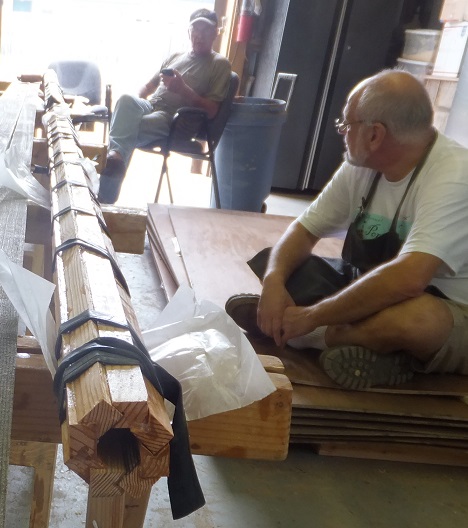 Birds Mouth mast staves glued and wrapped with
strips of half bicycle tire inner tubes to hold them together while the epoxy glue cures.
Waxed paper to keep mast fron sticking to the supporting saw horses.
Charlie and Frank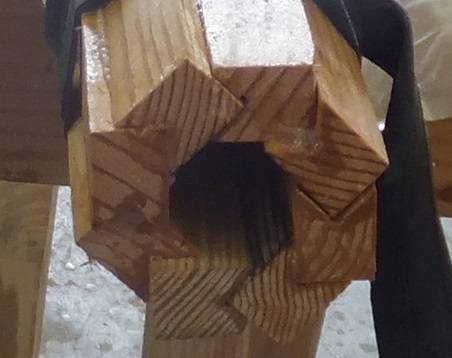 A view of the end of a Birds Mouth mast, showing how the staves fit together.
---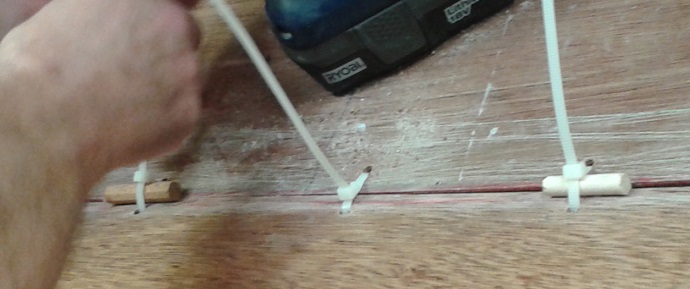 Stitch and glue using zip ties and pegs to hold the bottom to garboard in place
before fiberglass and epoxy is applied.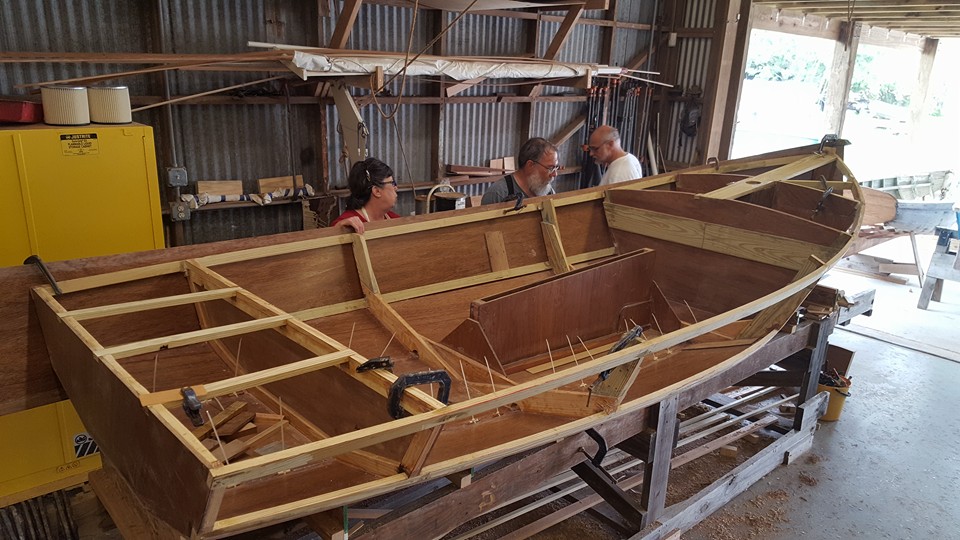 Fitting Port side - bottom to garboard zip tied. - photo by Mark B.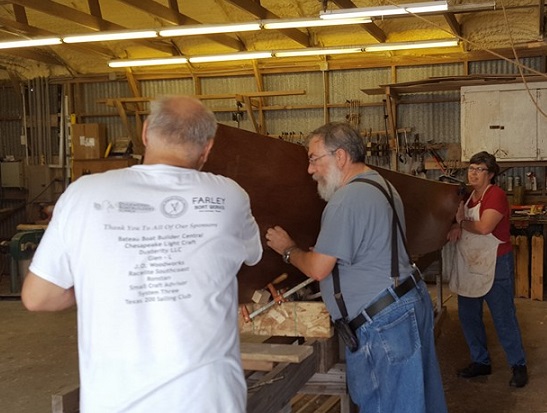 Fitting the Port side - Frank, Gerard, Mona - photo by Mark B.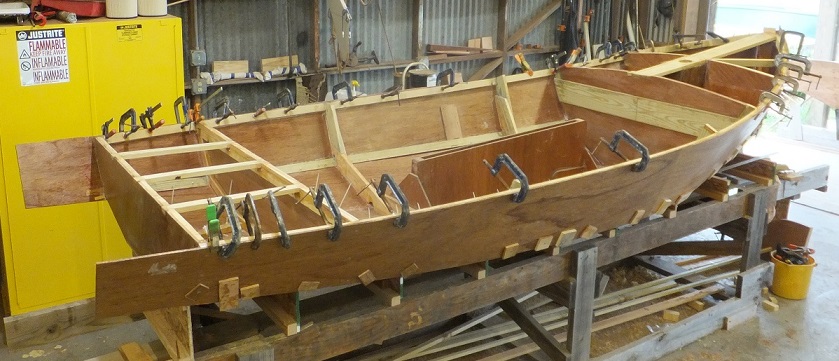 The side boards attached - 28 April 2016 - ready for epoxy to cure. Not yet trimmed.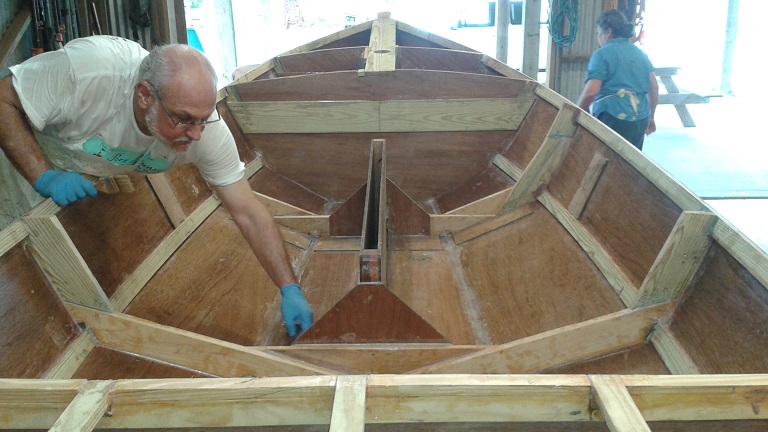 Frank smoothing bottom to garboard epoxy/fiberglass joint.

Sides on and trimmed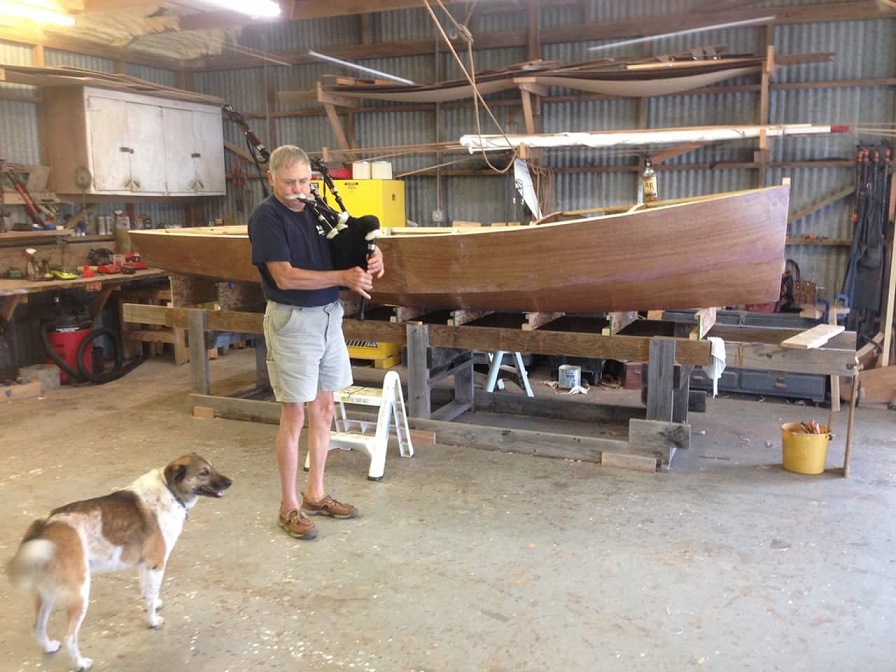 29 April last plank was set in - - Whiskey Plank celebration - well done.
---
~ ~ 4 and 5 May ~ ~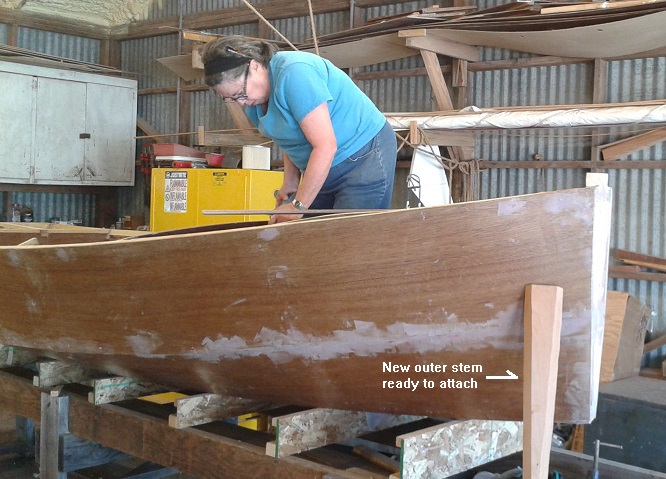 Plane work on sheer strakes - outer stem ready to attach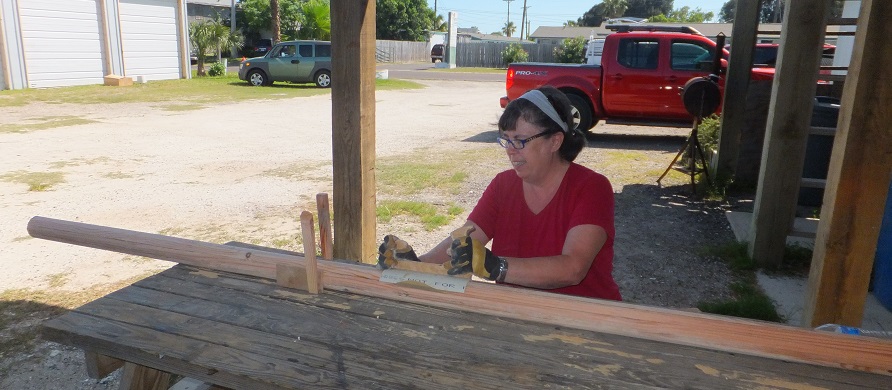 Mona sanding one of the birds mouth masts.
Special tool made by Charlie Jones.
---
---
~ ~ ~ ~ ~ ~ ~ ~ ~ Third Building Session ~ ~ ~ 23-28 May 2016 ~ ~ ~ ~ ~ ~ ~ ~ ~
Turned hull over
work on spars
fiberglassing bottom
Turned right side up
rudder and centerboard work
cut for deck and aft deck parts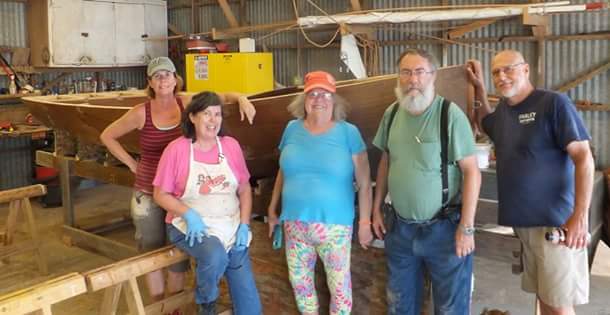 Most of the crew on the 3rd session build. Susan, Mona, Jackie, Gerard, Frank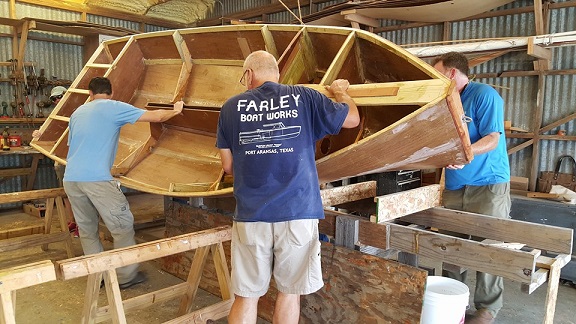 Removing the SNS hull from the building base and turning it over.
We had some extra labor for this operation. Peter who is building a Scamp and one of guys from the Scow Schooner project.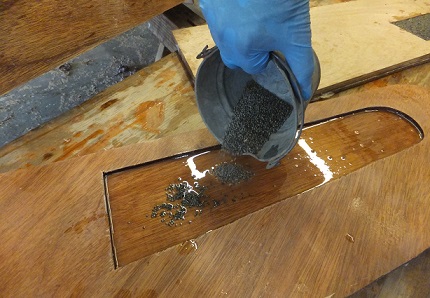 -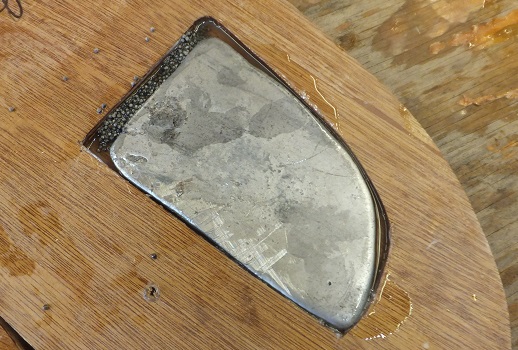 Lead shot poured into Centerboard - - Cast lead in Rudder Blade with some shot to fill gaps.
The Centerboard and Rudder Blades are made of 3 thicknesses of plywood.
The middle layer is hollowed out to allow lead weight to be inserted to cause them to sink properly.
The piece pre-cast off site fit the Rudder Blades. The Centerboard castings were slightly too thick,
so lead shot was poured in epoxy to create the proper weight.
~ ~ ~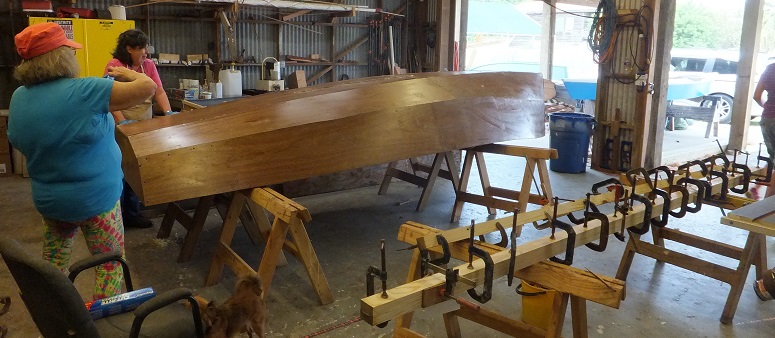 Laminating spars - see clamped items lower right of picture.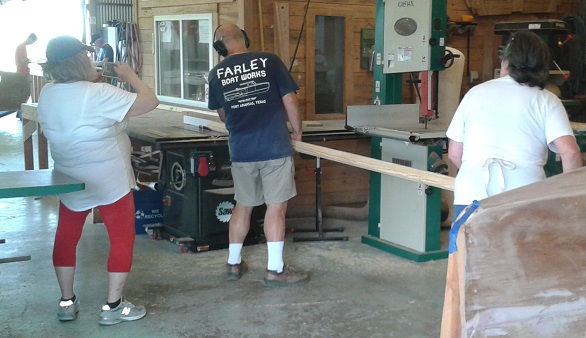 Trimming one of the spars (perhaps the boom) to an octogon before smoothing closer to round.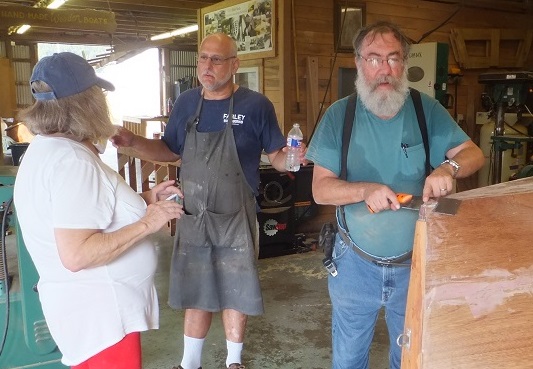 The SNS gets a nose job as required by the plans.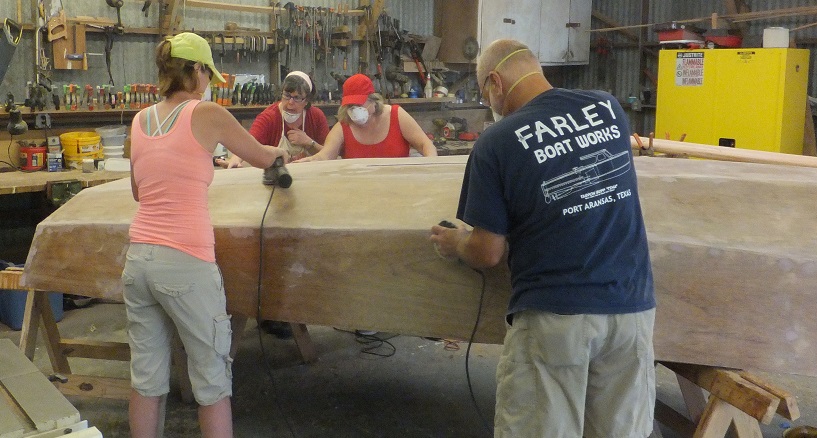 Filling ans smoothing the bottom - preparation for fiberglassing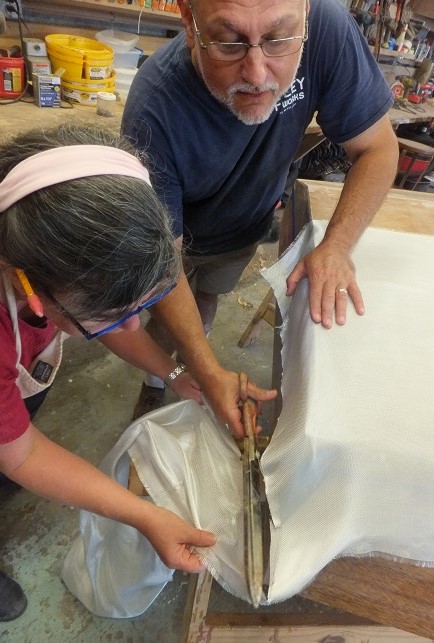 Cutting the fiberglass to length - Frank and Mona - 26 May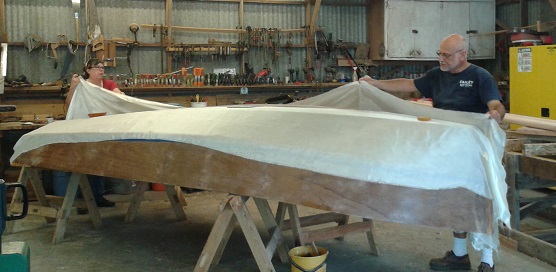 Laying out the lengths.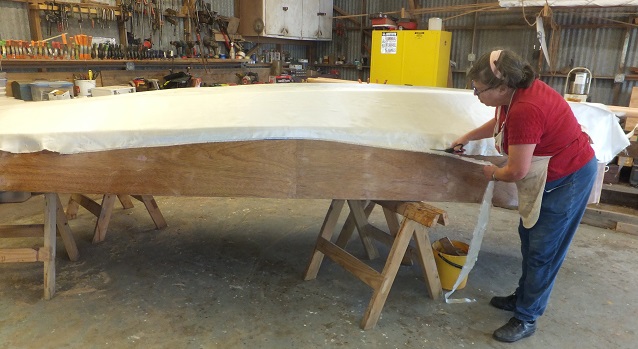 Trimming sides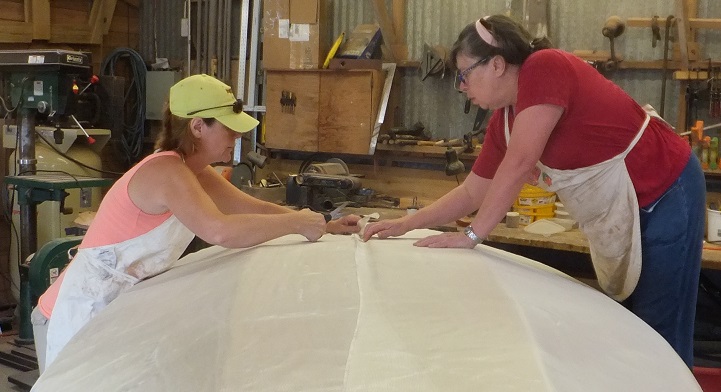 Susan and Mona dealing with the centerboard case cut-out.

Epoxy saturating the fiberglass on the bottom.
Note that blue tape was added to aid trimming off the edge.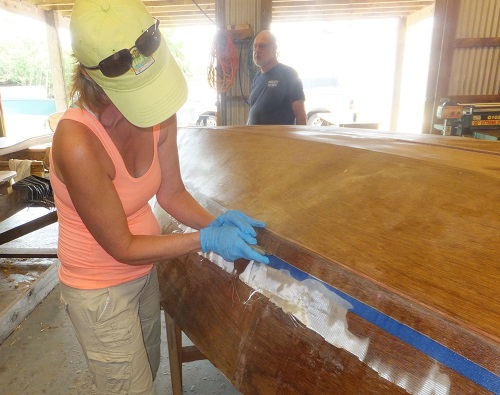 Trimming off the edge of the fiberglass.
This must be done as soon as the epoxy is beginning to set and long before it hardens
if you hope to do a neat job. The glass and tape should pull off the hull if you do it correctly.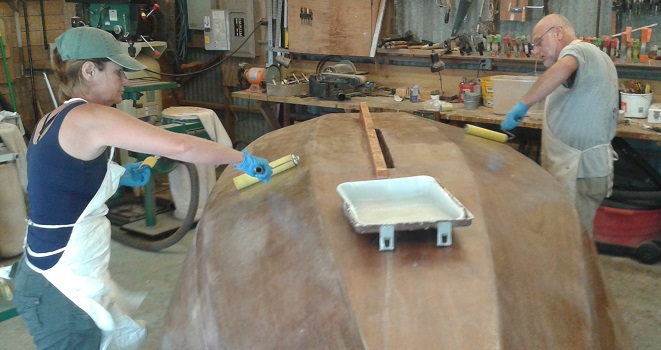 A second coat of epoxy is applied over the whole exterior. 27 May, the day after fiberglassing
Note the skeg is placed adjacent to the centerboard case slot.
-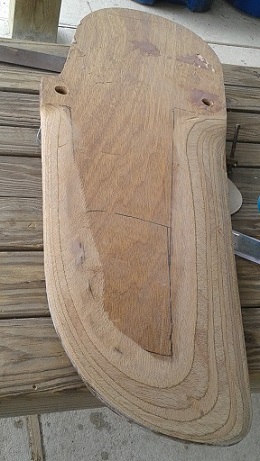 Chamfering the rudder blade with a sanding grinder - - Rudder blade shaped
The Centerboards were rough shaped much the same way.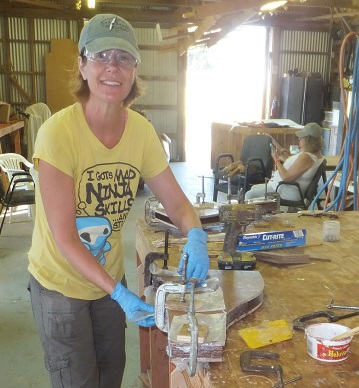 -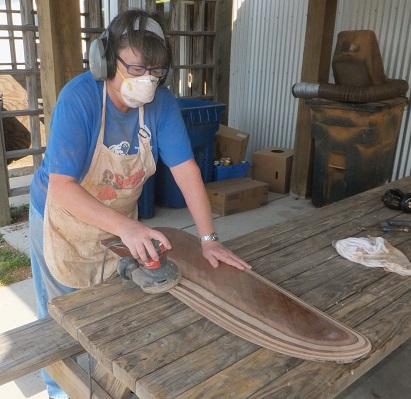 Susan assembles a rudder head. - - - Mona sanding a centerboard to shape.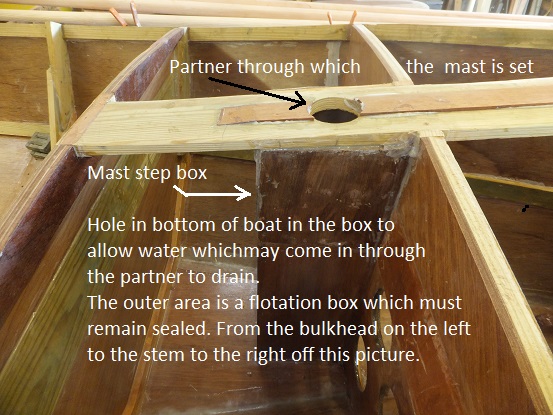 Forward of the bulkhead at the front of the cockpit area.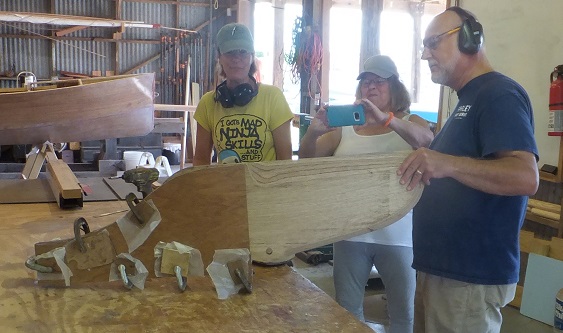 Test fitting a Rudder Blade to a Rudder Head.
Susan< Jackie, Frank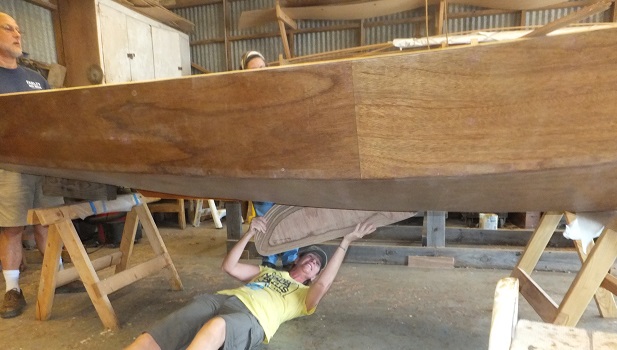 Susan fits the Centerboard.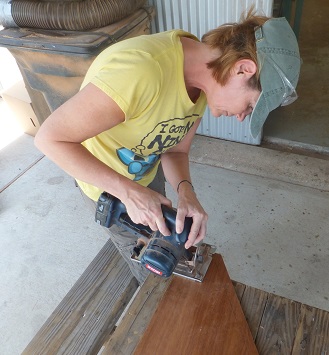 Susan cuts a Fore Deck piece.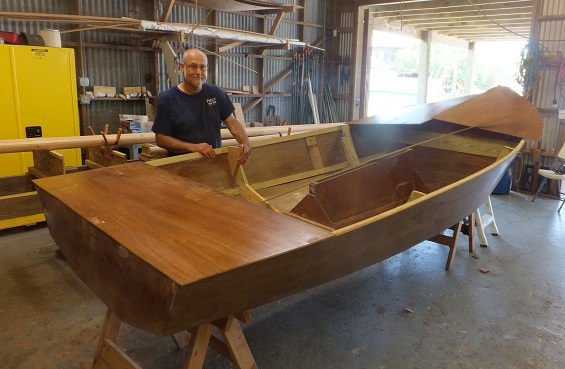 Fore Deck pieces and Aft Deck lying in place. Frank holds a Side Deck support.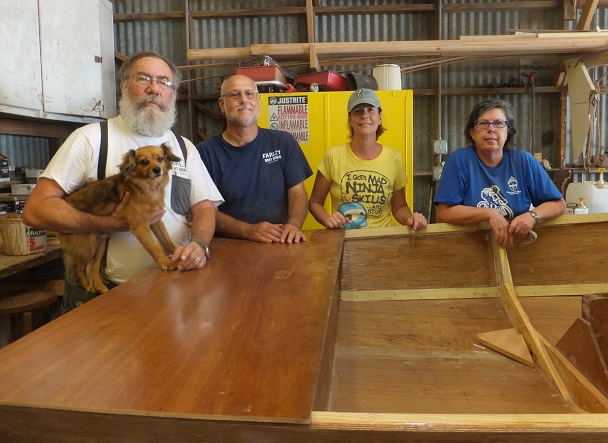 The Crew at the end of the 3rd Build session - Dickens the wonder dog, Gerard, Frank, Susan, Mona - Jackie took the picture.
---
~ ~ ~ ~ ~ ~ ~ ~ ~ Fourth Building Session ~ ~ ~ 23 - 27 August 2016 ~ ~ ~ ~ ~ ~ ~ ~ ~
cut out holes and installed hatch covers
Attached fore deck
Attached side decks
attached rear deck
addded parts to rudder practically finishing it
prepard epoxy bearing for centerboard
mast partner refined
smoothing hull/deck joint
cockpit rail built/installed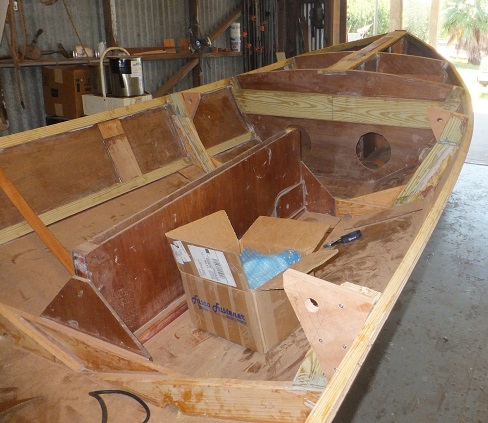 Inside of hull near the beginning of 4th building session.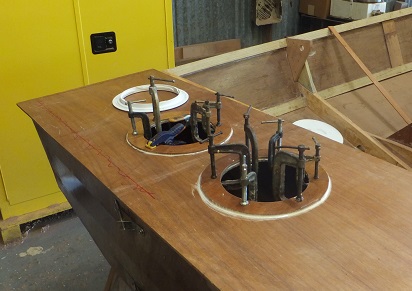 -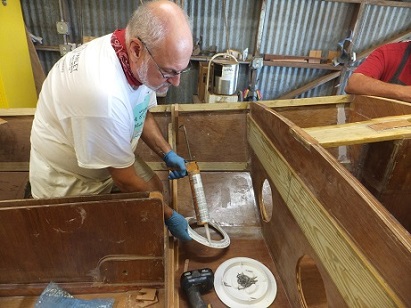 Reinforcements for hatch rims - on underside of aft deck (which is not yet screwed down to hull.) - Frank applying sealant to rims of forward bulkhead hatches.
-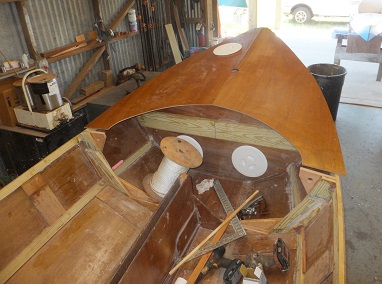 Dry fit foredeck - - - Foredeck install after cockpit edge cut.
Note the Port side deck hatch for access to forward part of dry area ahead of the first bulkhead.
This hatch will allow access to installation of bolted deck fittings.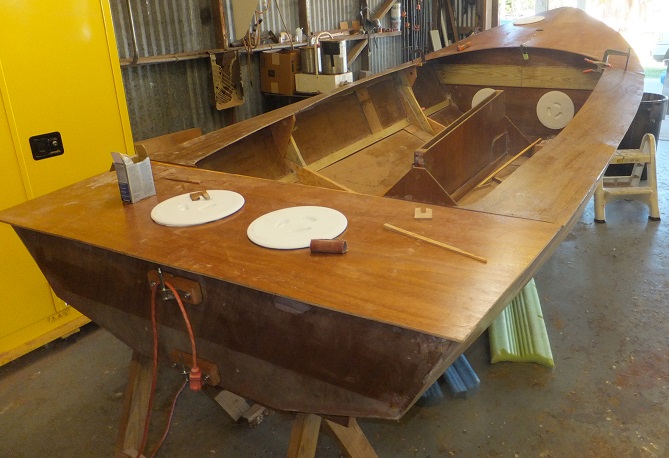 Front and side decks fastened - aft deck loose.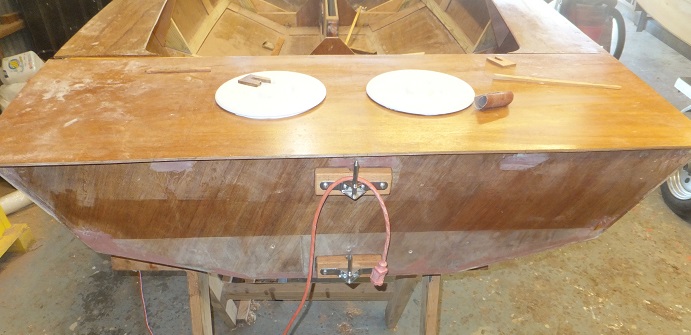 Broad transom following generally broad hull should give good initial stability.
Transom mounted pintles for rudder attachment.

Cockpit side edge (rail) epoxied in.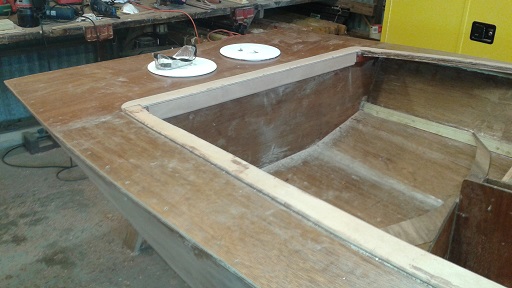 Cockpit aft edge installed.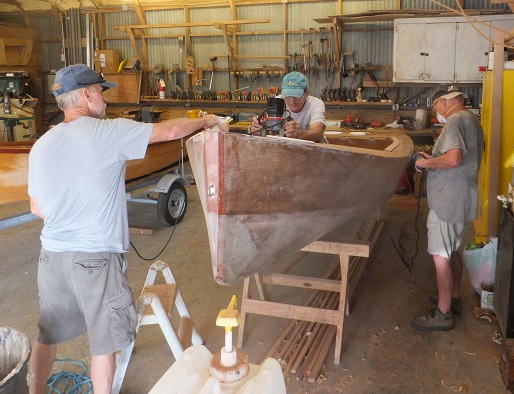 Ron routing mast step hole, James assisting, Will filling deck/hull joint.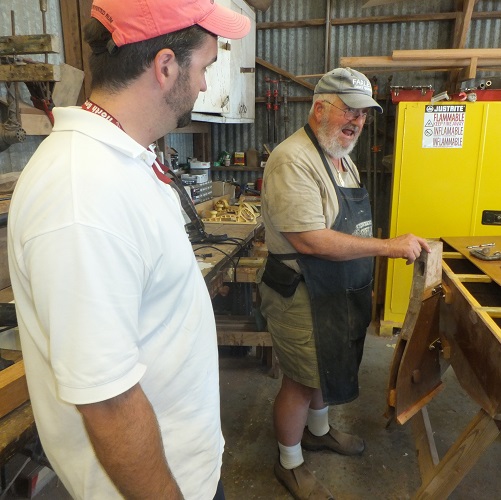 Ryan and Steve test gudgeon placement for rudder.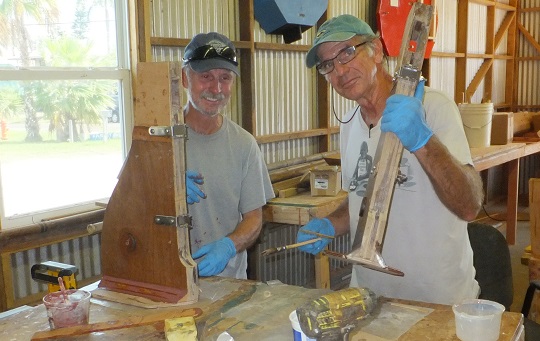 James and Ron two volunteer professional carpenters adding their labor to the Rudder production.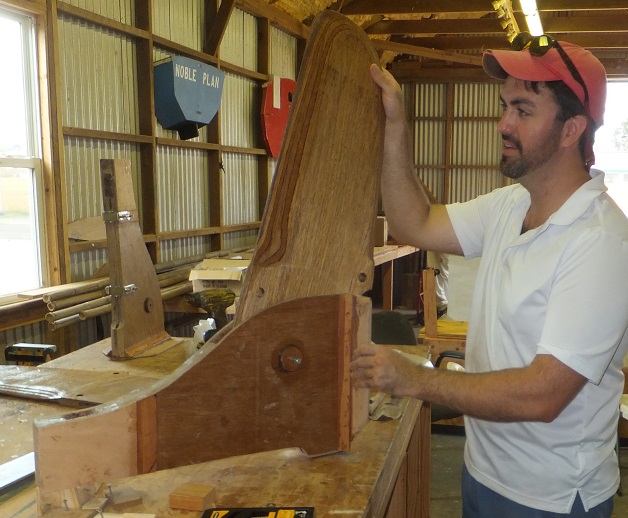 Ryan inspects a nearly finished rudder with blade temporarily in place - 26 August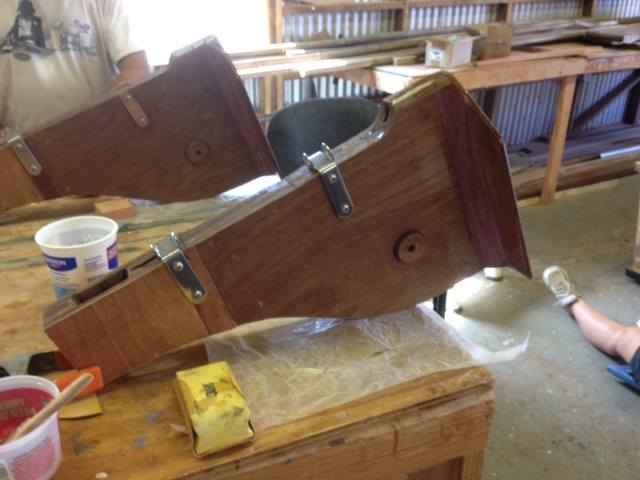 The Rudder on the SNS is an amazing bit of construction.
This piece of work involved the labor of 1 professional engineer,
at least 3 professional boatbuilders, 2 professional carpenters and numerous skilled amateurs
over a time period which spanned several of the build sessions.
If you add up all the little pieces which make up the rudder you would be amazed at the complexity.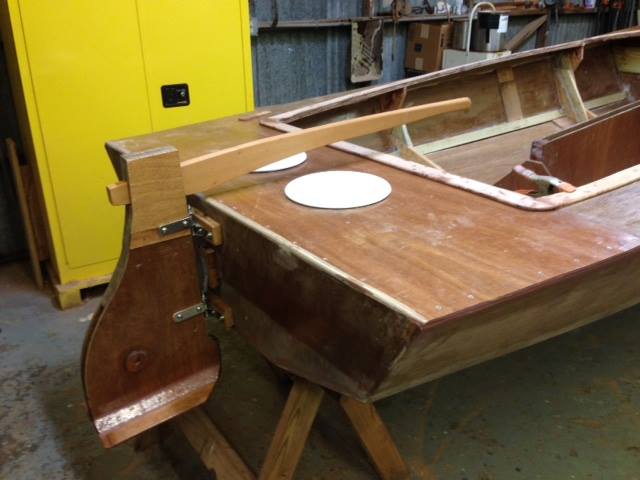 The gudgeons are mounted on the rudder head, and pintles are mounted on the transom of the hull.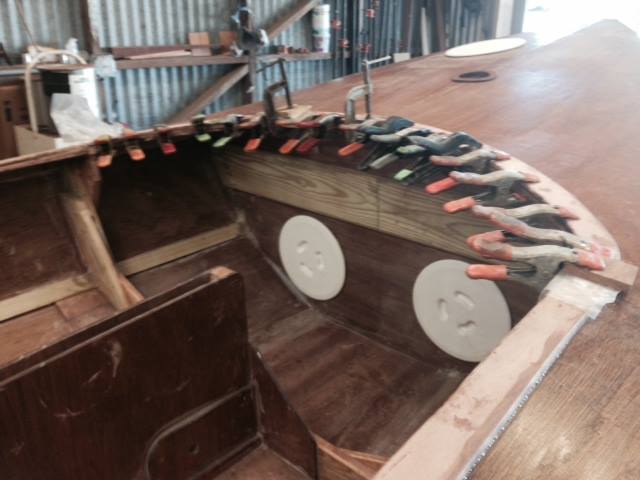 The front deck rail epoxied and clamped (photo C. Jones)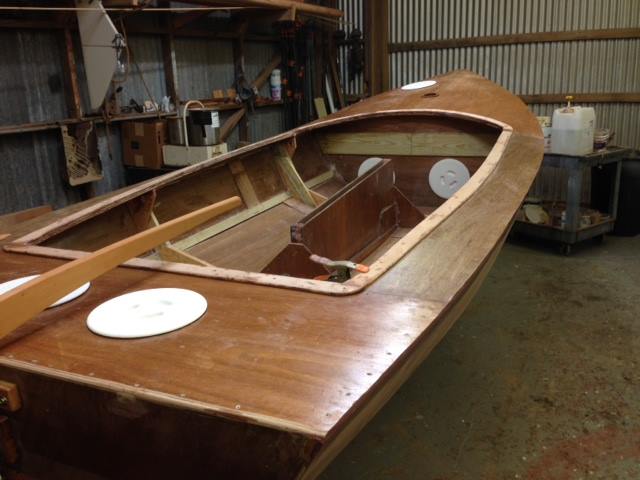 At finish of the 4th work session - hull essentially complete
photo by Farley Boatworks

the boat as of October 2016 - deck spray deflector installed
---
Note from Farley Boatworks -
The first of two Saturday Night Special sailboats is close to completion thanks to the many volunteers that came out for last weeks work party.
A big thank you to Lezlie Henson, Steve Woods, James Lovegren, Charlie Jones, Gerard Mittelstaedt, Ryan Galloway,
Roger Harlow, Ron and Will (sorry I did not get Ron and Will's last name).
This, and the other yet to be completed SNS will be used for cancer research fundraiser at the 2017 Texas 200.
The unpainted SNS was on display in the Farley Boatworks building at the October 8-10, 2016 Port Aransas plyWooden Boat Festival,

~ ~ ~