Port Aransas WWII Texas Coastal Defense
E. Cotter Avenue - across from the Univ. of Texas installation
Port Aransas, Texas 78373
----
Visited on - - 1 February 2014
---
Port Aransas World War II coastal defense gun emplacement
---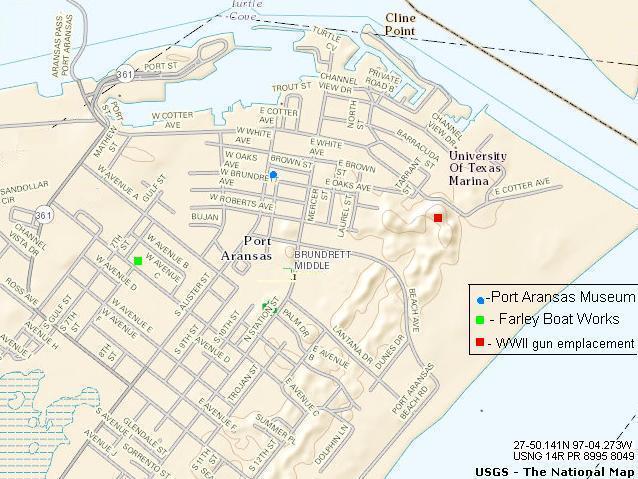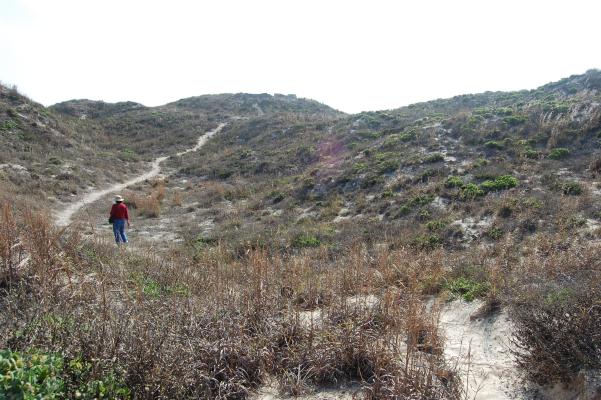 Trail to one of the two Coastal Defense gun emplacements.
This photo looking South from E. Cotter Avenue.
-
~ ~ Looking North ~ ~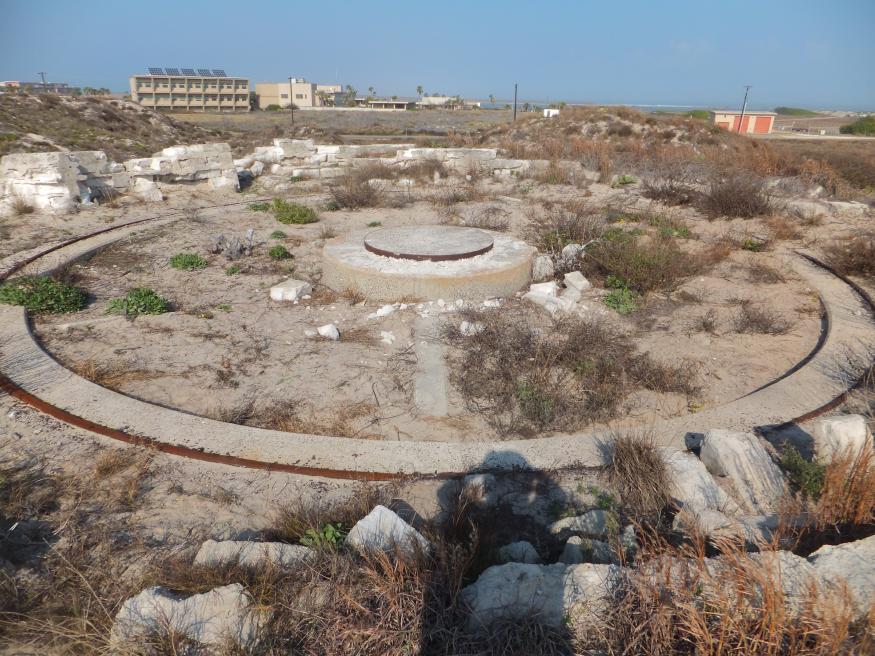 a general view of one of the two gun emplacemnets, looking north.
the cut through the barrier island, the Corpus Christi channel, is in the background,
as are a few of the University of Texas research station buildings.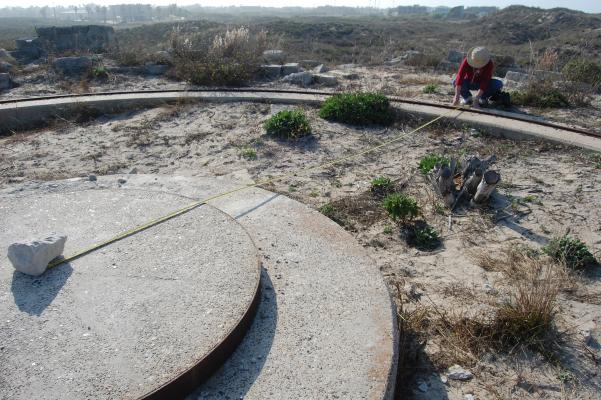 measuring the rings of the gun emplacemnet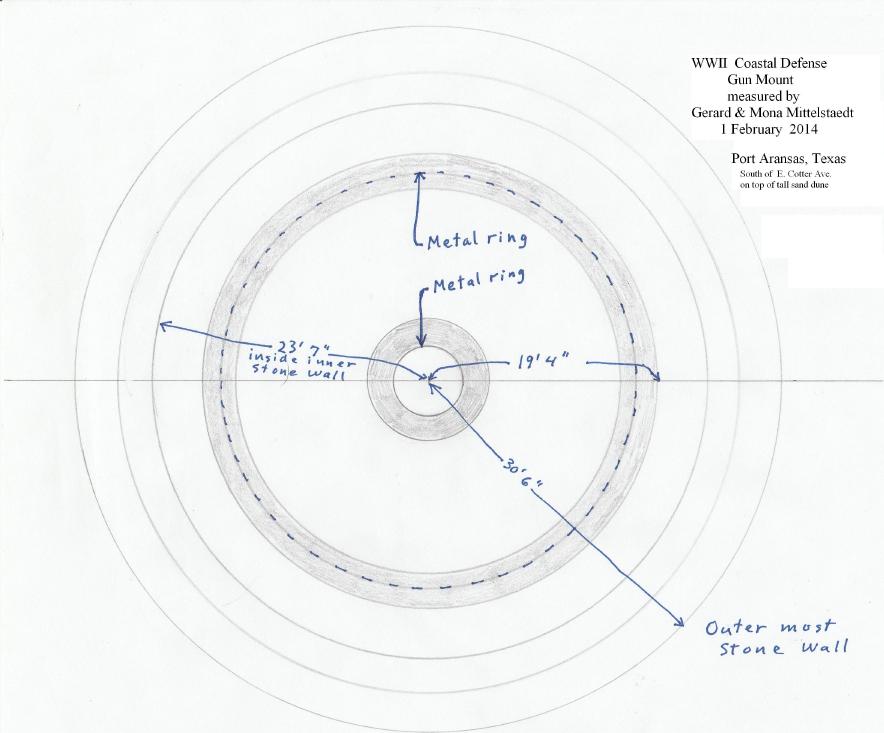 a rough measured drawing showing the size of the gun mount as it survives - February 2014
diameter of raised inner ring which is bound by metal = 6 ft 2 in = 74 inches

radius of raised inner ring which is bound by metal = 3 ft 1 in = 37 inches
radius of inner round platform = 5 ft .5 in = 60.5 inches
radius to inner edge of outer cement ring = 16 ft 4 in = 196 inches
radius to inner edge of the metal ring in the middle of the outer cement ring = 17 ft 9 in = 213 inches
Note - this metal ring (dashed blue line on diagram above) is 2.5 inches thick.
- - It is in remarkably good condition for being in this salty enviornment since 1943.
radius to outer edge of outer cement ring = 19 ft 4 in = 232 inches
~ ~ ~
measurements expressed on the diagram above outside the last ring measured by steel tape
are extrapolated from the inner measurements.
There are also direct measurements of the limestone blocks of the walls
and of the distance between the inner wall and an outer wall near an entrance opening on the North side.

detail of large metal ring showing the only joint/break found in this otherwise seamless ring

West side. Outer Wall and lower inner wall
The individual blocks of limestone are approximately 8 in. x 8 in. and 24 in. long.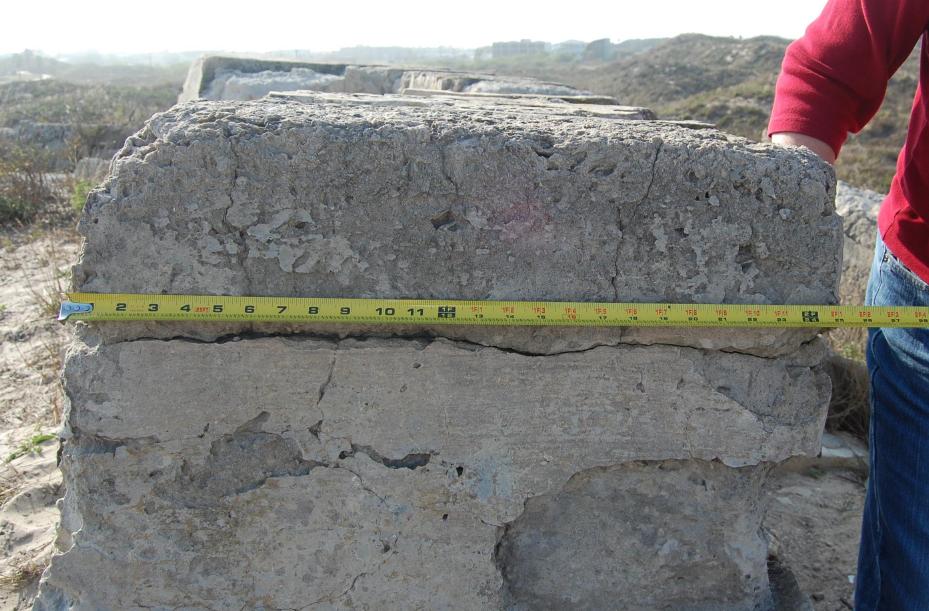 North side. inner wall thickness (and block size) measured at North side opening
It appears that the wall might have had some morter facing on it.


North side opening - access distance between inner and outer walls is 2 ft. 9 inches = 33 inches.
Click on picture for larger image... and use back to return to web page.
-
~ ~ looking North East ~ ~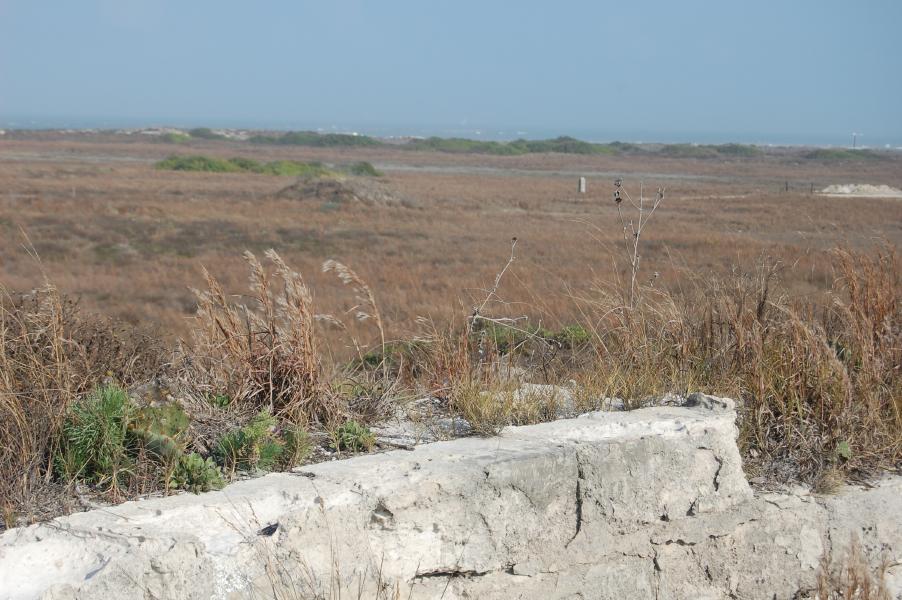 An obelisk pylon. Nobody seems to know what its function is, or who made it.
The entrance to the channel to Corpus Christi, which the gun in this eplacement guarded, is past the green covered dunes behind the obelisk.
I am told that there are 2 of these. This is the only one I saw.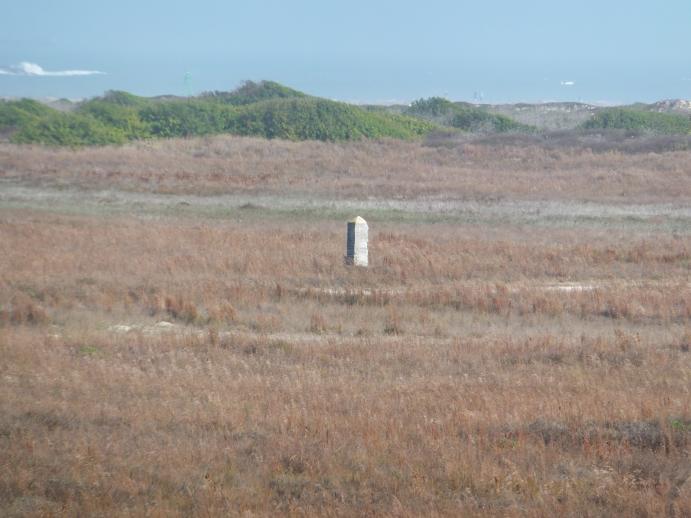 Closer view of that obelisk marker.
- more detail later -
~ ~ ~ ~ ~ ~ ~ ~ ~ ~ ~
Port Aransas Museum on this server
www.portaransasmuseum.org official website
Places in Texas Index page.
update 14 March 2014
---
Vacation Index file
Return to STexBoat Index page.