Port Aransas Museum
101 E. Brundrett at Alister Street
mailing address -
P.O. Box 677
Port Aransas, Texas 78373
www.portaransasmuseum.org
----
related to the Port Aransas Preservation Society
Visited on - - 1 February 2014
When the Texas Boatcrafters and Messers (the Texas chapter of the)
Traditional Small Craft Association
Had a tour and meeting on the site.
-
the Museum building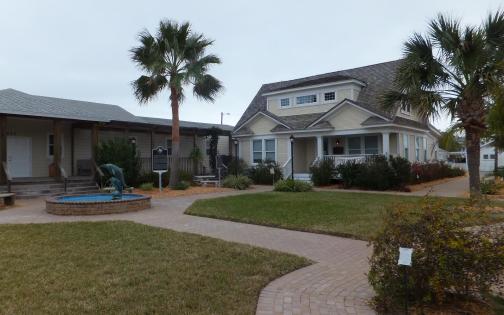 Port Aransas map - locating the Museum and the Farley Boat Works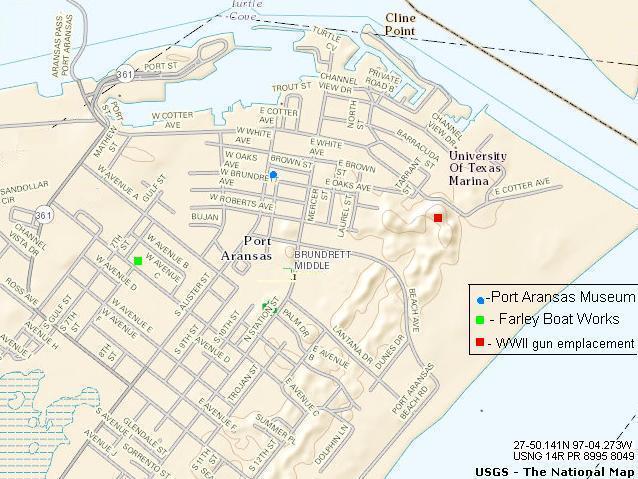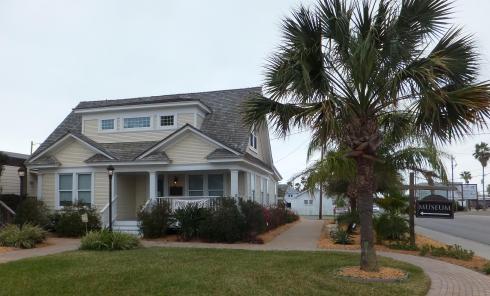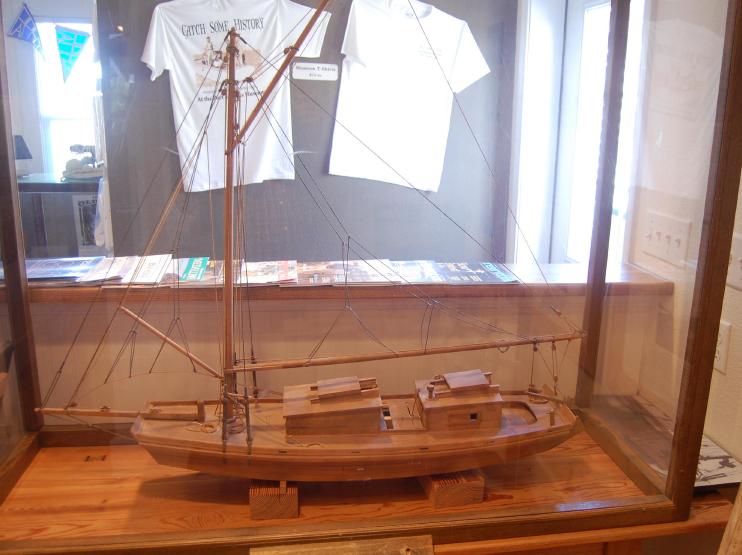 Scow Sloop model - This type of boat was used for fishing in the bay and Laguna Madre
stretching a large net between 2 boats and sailing along sweeping up everything.
A law outlawed this practice to preserve the fish stocks.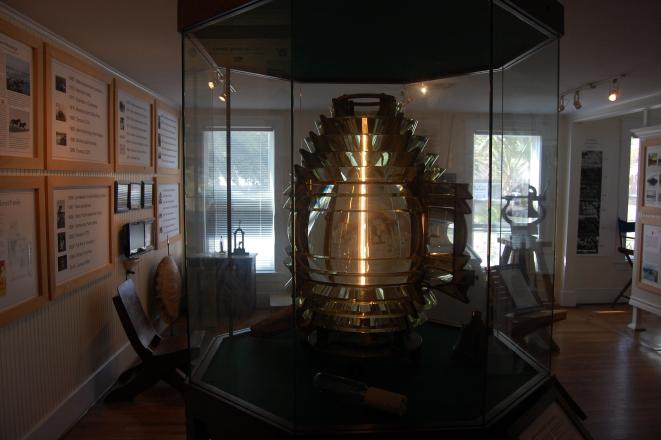 A fourth order Fresnel lens which was in the Aransas Pass Light Station
from 1865 until 1954 when the Light Station was decommissioned.
The Fresnel lens focuses and shines the light of the lamp out in a horizontle beam.
This concentrates the light to where it is needed, so that nearly all the light generated by the lens shines out to the sides.
This sort of lens was invented by French physicist Augustin-Jean Fresnel (of France). The first such lens was used in a French lighthouse in 1823.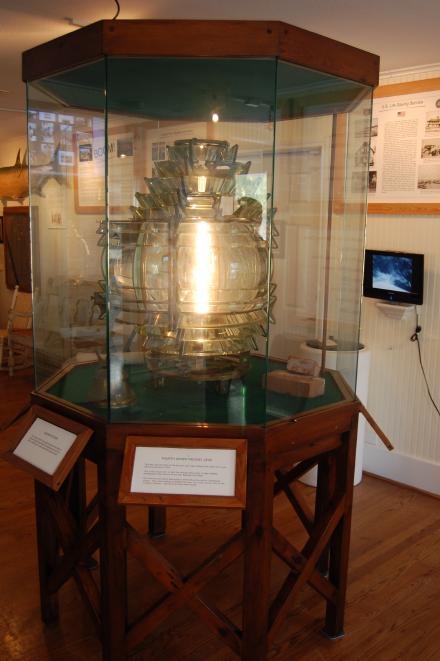 There are a few computers on site which contain impressive collections of
historical pictures of the Port Aransas area. These pictures are grouped by topic.
~ ~ ~
One of the larger exhibits describes hurricanes in general and particularly hurricanes
which came ashore in the Port Aransas area.
---
- -
Farley Boat Works
a part of the Port Aransas Museum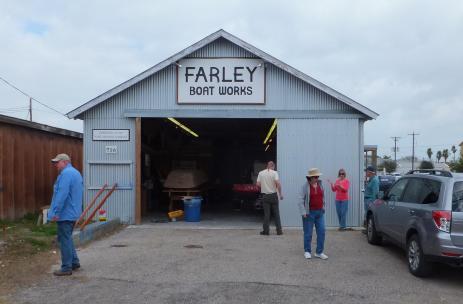 716 W. Avenue C
Port Aransas, TX 78373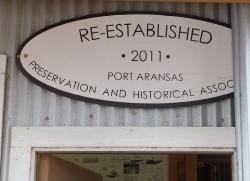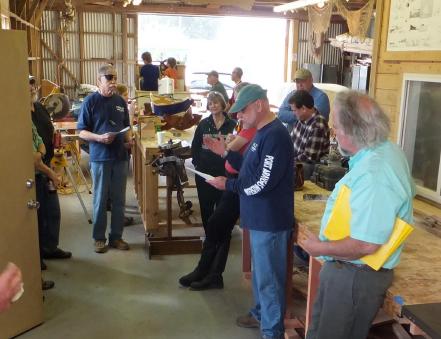 Frank Coletta (green hat) - president of Texas Boatcrafters and Messers and
the Traditional Small Craft Association, addresses the members attending.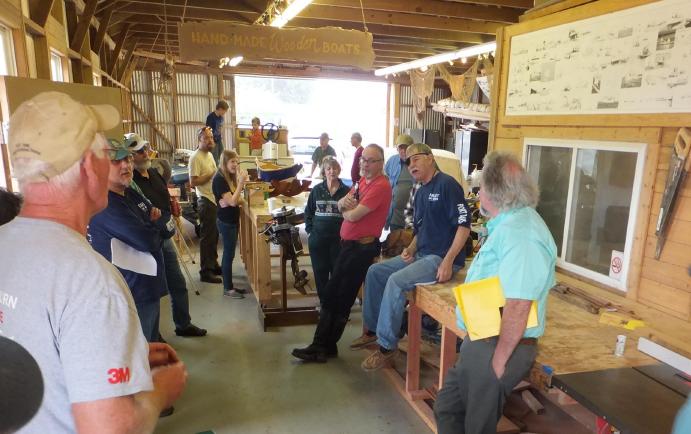 South end of the Farley Boat Shop
Rick Pratt, museum director - - Jim Johnson (left) shop manager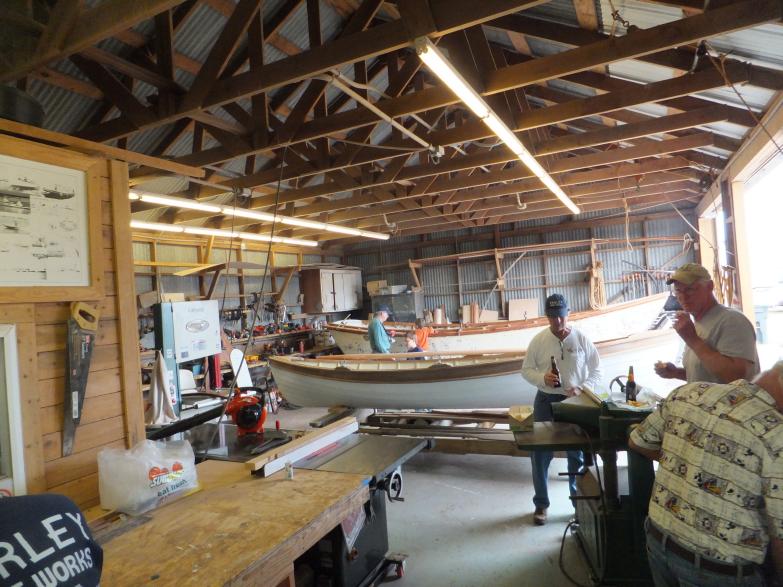 North end of the Farley Boat Shop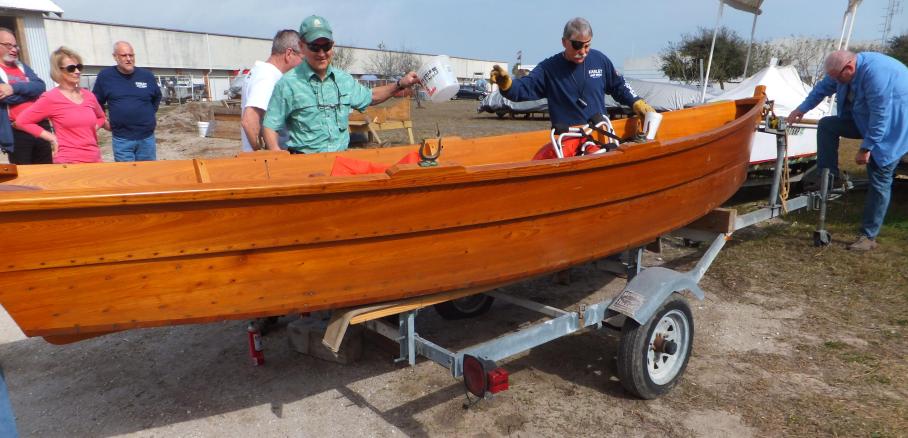 This skiff made to be a tender for the Scow Schooner in Anahuac, Texas.
This boat is planked with cypress and framed with Southern Yellow Pine.
There is no plywood in this boat. Rick Pratt and Chuck Leinweber shown.
Planks are rivited. Bottom is cross planked.
In the background you can see the Scow Schooner hull bottom side up and covered with silver tarp.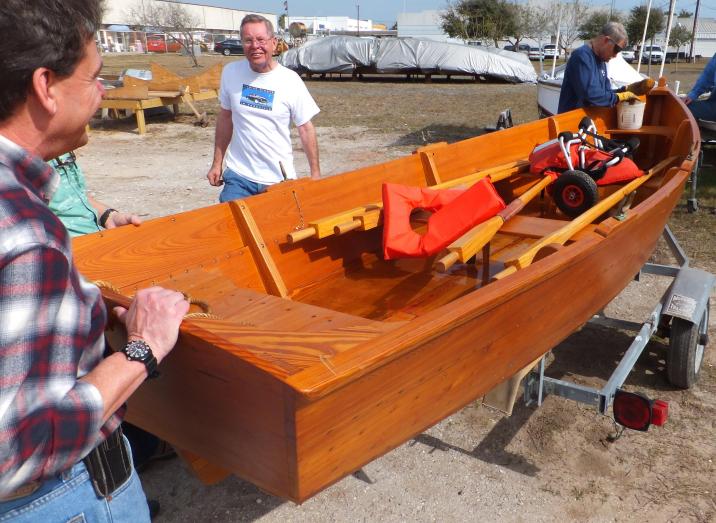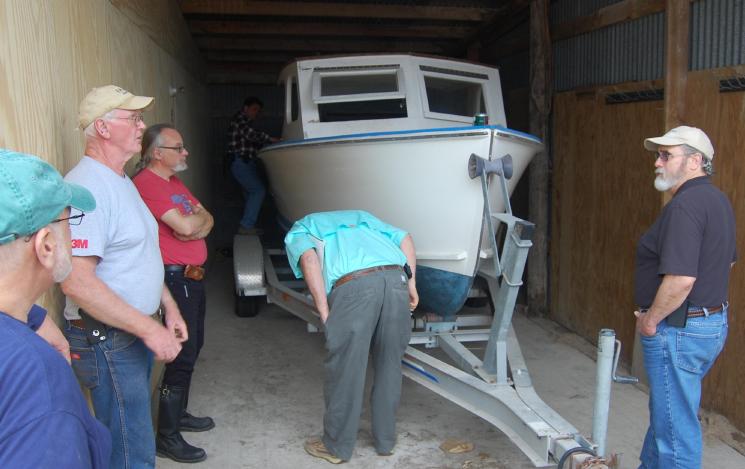 Tarpon fishing boat designed and made by Farley Boat Works
when it was an active commercial boat boatbuilding shop.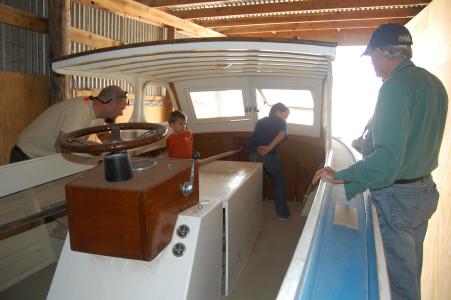 inside of a Tarpon fishing boat designed and made by Farley Boat Works
~ ~ ~
A 100 year old Bahamian Skiff - could be restored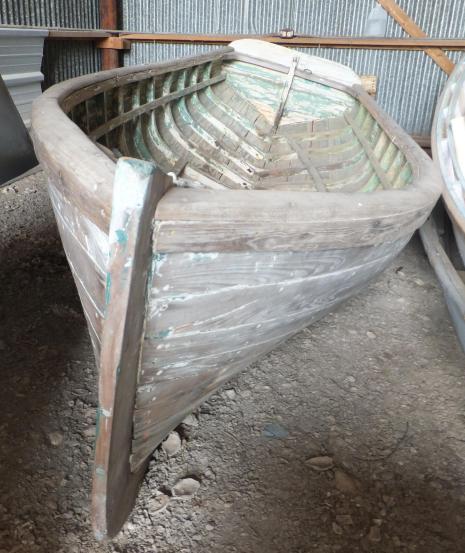 -

In any case it is truly a museum piece.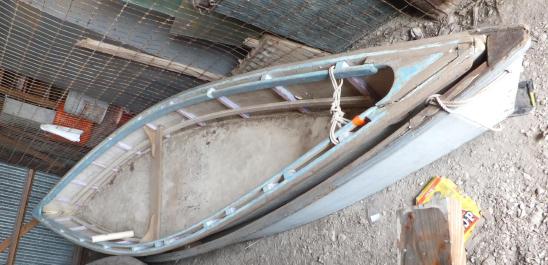 Lighthouse keepers skiffs, nested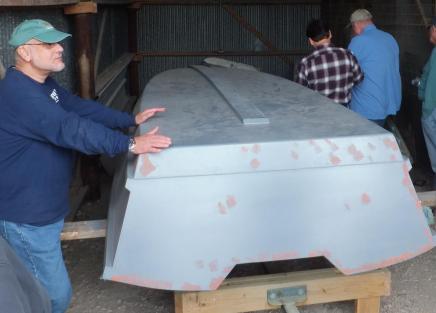 A boat made in the museum program, in process.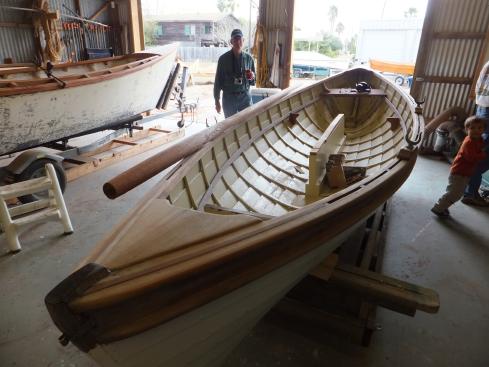 Boat in process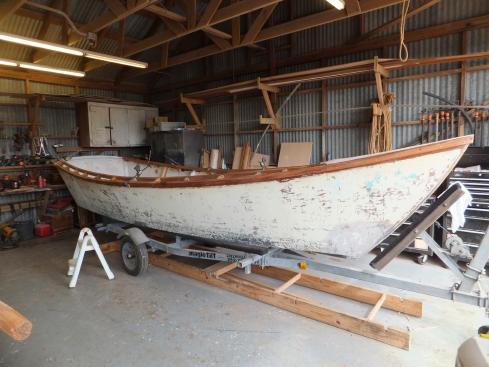 another Boat in process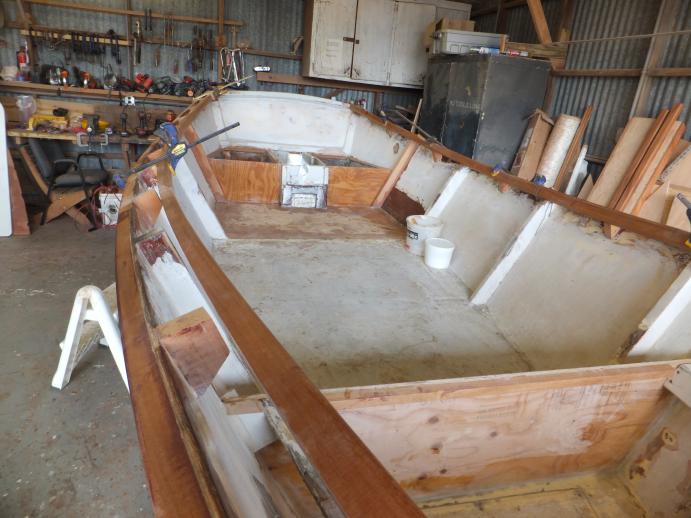 another view of previous Boat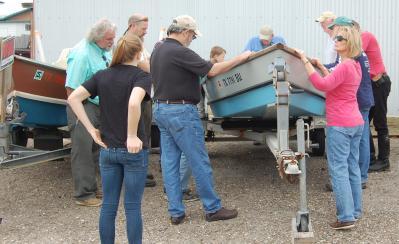 A couple of skiffs made since the Farley Boat Works has become part of the Port Aransas Museum.
~ ~ ~


The covered hull of a Gulf of Mexico Scow Schooner
The hull was made in Anahuac, Texas (north side of Galveston Bay) and
was recently moved to the Farley Boat Works to be finished.
The hull is made of cypress wood and came sheathed with 3/4 inch plywood.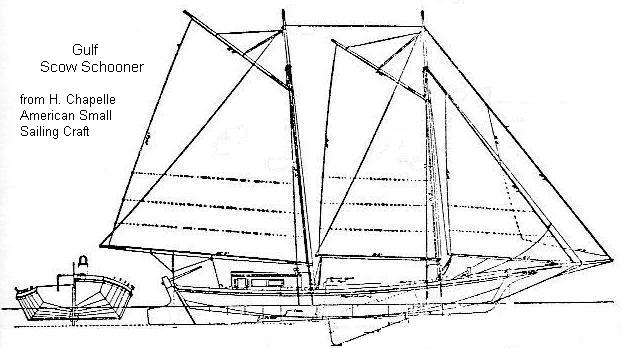 a diagram of what the Scow Schooner should look like when finished
---
~ ~ ~ ~ ~ ~ ~ ~ ~ ~ ~