Delivery of Sea Gal
~ from Rockport, Texas to Port Isabel, Texas ~

On Saturday, March 15, 2008 Dr. P and I drove to Cove Harbor in Rockport, Texas where his boat had received a bottom job and general maintenance.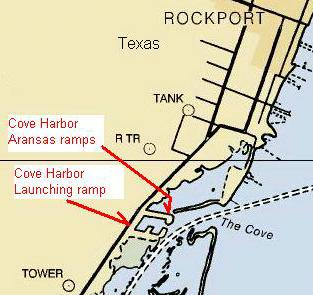 It was re-launched by travel-lift at House of Boats.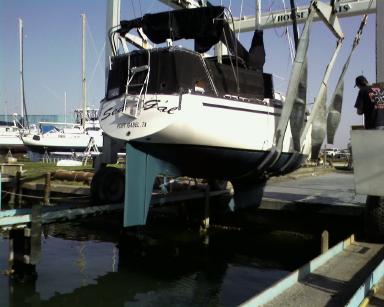 We fueled up, washed the dust of the yard off, and headed south on the Intercoastal Waterway to Aransas Pass.
We then turned east and motored out the Aransas Pass Channel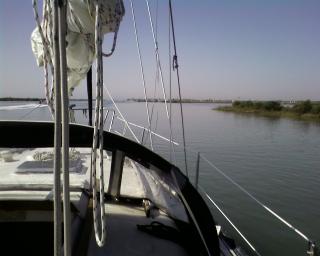 to the entrance to the Gulf of Mexico at Port Aransas, Texas.
One large collier and 2 large tankers came through the channel to the Port of Corpus Christi while we were exiting.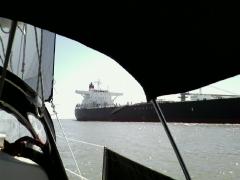 Sea Gal delivery track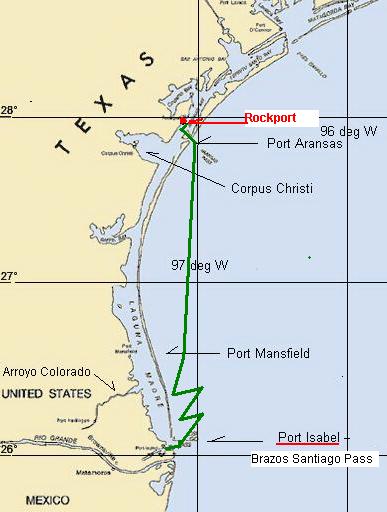 Wind was light, more easterly than from the north.
Saturday was a nice sunny day.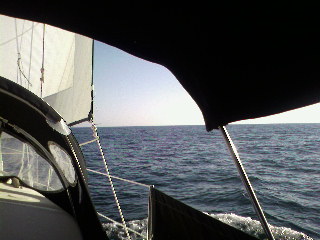 We motor-sailed on south to our destination at the Brazos Santiago Pass,
the entrance to Laguna Madre at the southern tip of South Padre Island and Port Isabel.
A chart plotter, gps, depth sounder linked system, along with an auto pilot made it easy going. Most of the time we just sat and watched.

The wind backed to a more southerly direction late at night (actually early Sunday morning). We found that we could no longer hold the rhumb line course, so modified course to head more westerly toward S. Padre Island, and decided to do one or more tacks. About 6:00 AM, as we approached to a water depth of 35 feet we tacked, heading back east. Fog was very thick.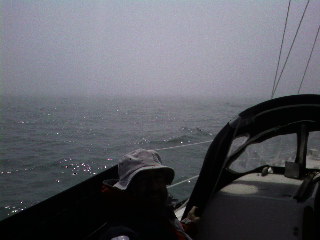 Just after 7:00 AM the pre-dawn light, and slightly thinning fog offered us better visibility. This was very welcome.
Wind freshened and went more Southeast, we reefed down the sails at the first seaward tack.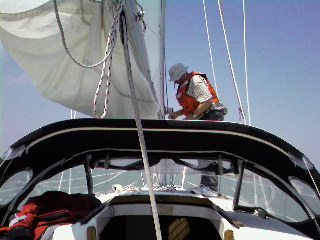 Later we found that we needed a second tack.
As we approached Brazos Santiago Pass fog thickened. It would have been very difficult to find the entrance without the chart plotter/gps. As we navigated it was much like a video game, steering by images on a LCD screen which showed a chart and our position. At 1:00 PM we found the entrance. One could barely see the ends of the jetties from the middle.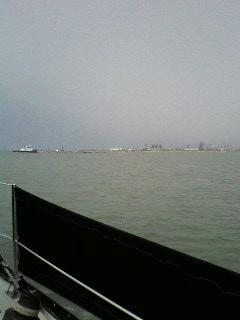 Once inside the fog thinned and in Port Isabel it was a warm sunny day.
We took a turn around in the channel by Port Isabel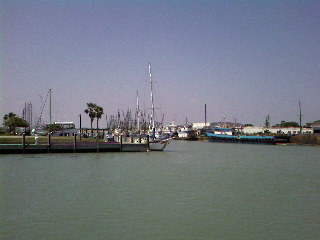 and before 2:00 PM, March 16, we were tied up to the dock.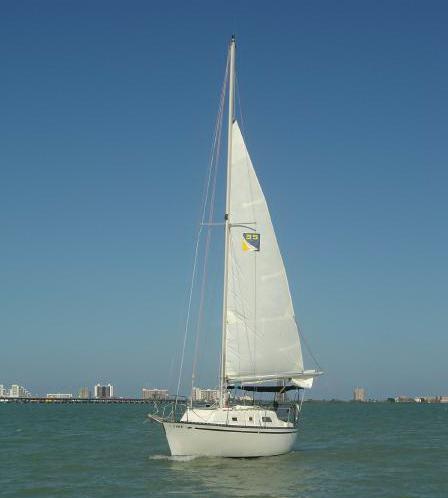 Sea Gal - an earlier picture of this Hunter 30 owned by a friend.