Afternoon sail - Arroyo Colorado
in the skiff Ocean Breeze
21 Aug 2005
It was hot.
My son and I launched at the launching ramp at Adolph Tome park - on Arroyo Colorado, East of Harlingen, TX.
About 2 miles down we turned into the south bank and set an anchor.
We climbed ashore with dry feet, and walked up the ''Loma'' or little hill.
We sharpened a fresh Mesquite stick, skewered a ripe ''tuna'' or fruit of the Nopal (prickly pear) cactus.
It bled out purple juice. I cut it off the cactus and peeled it, removing skin and thorns. We then sampled it.
The outer part of the fruit was slightly acidic, and the inner core was very jucy and very seedy with small very hard seeds.

We climbed to the top of the Loma and watched a coyote walk past at about 40 yards.

2:27p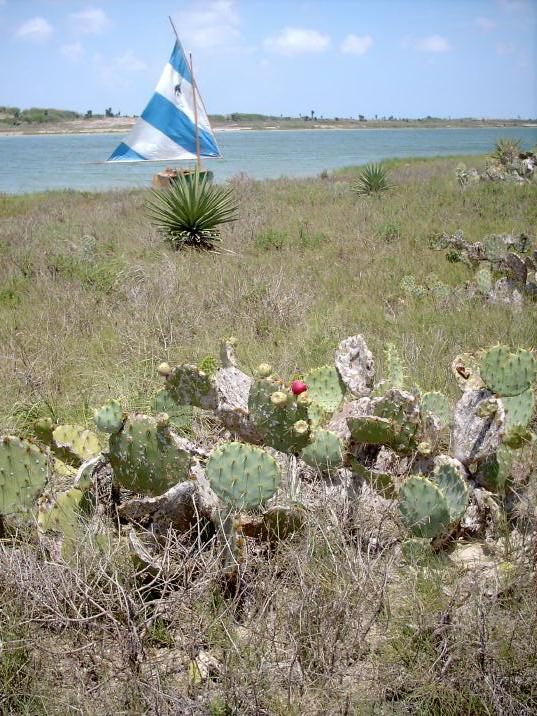 Note Nopal (prickly pear) cactus with ripe purple ''tuna'' (or fruit) among some green - not yet ripe fruits.
2:27p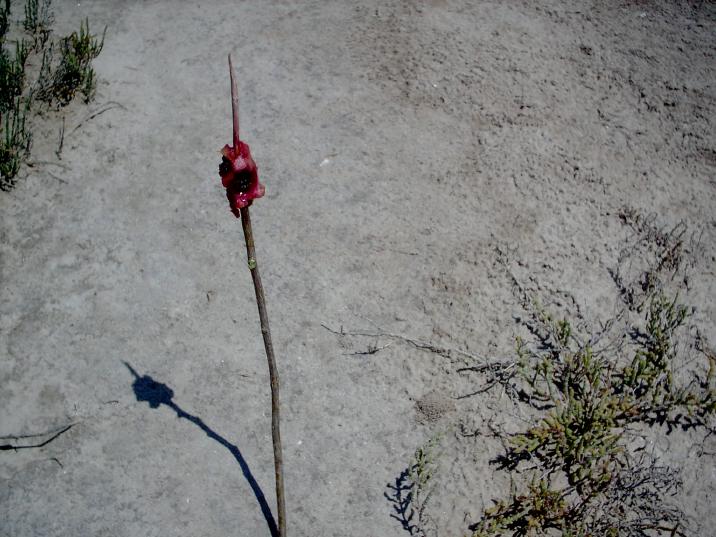 Close-up of the cactus and a sharpened stick with a skewered tuna, peeled and half eaten.
2:28p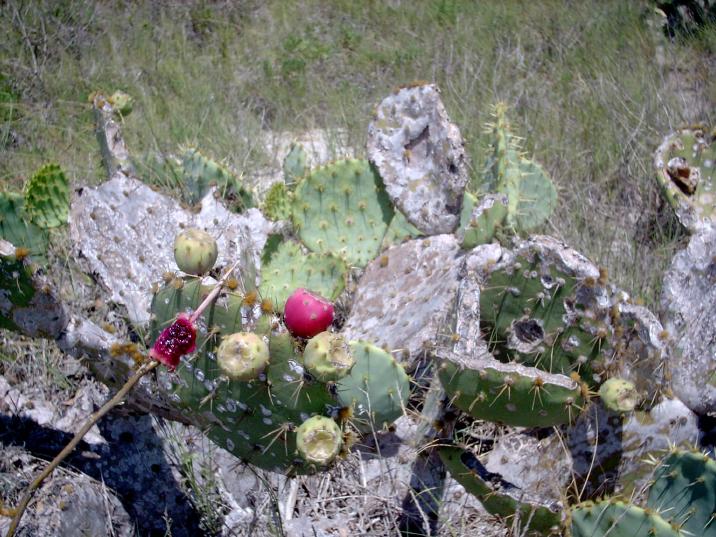 The sharpened stick with the half eaten fruit.
This is probably the only way to eat these fruits without geting lots of the very sharp tiny spines in our fingers (or in our mouths.)
2:29p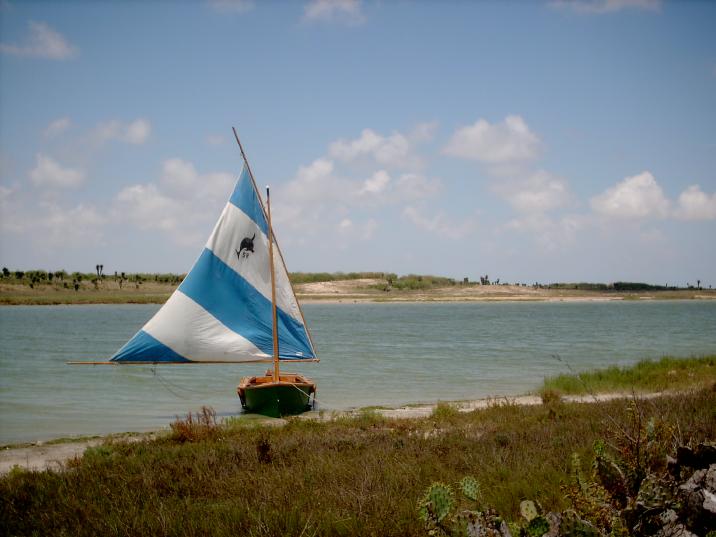 Ocean Breeze nosed up on the shore, with an anchor out to keep her from drifting off.
2:29p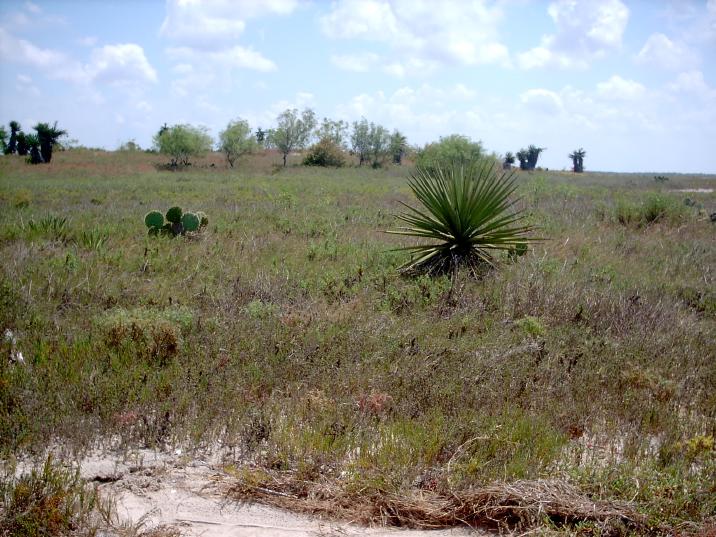 We saw a coyote walking past on the south side of this Loma. It seemed not to see us.
We were downwind of it so it probably did not smell us. It was lean but healthy looking and was walking purposefully.
There was some brush between us and the coyote, and it disappeared off toward another brushy area.
2:30p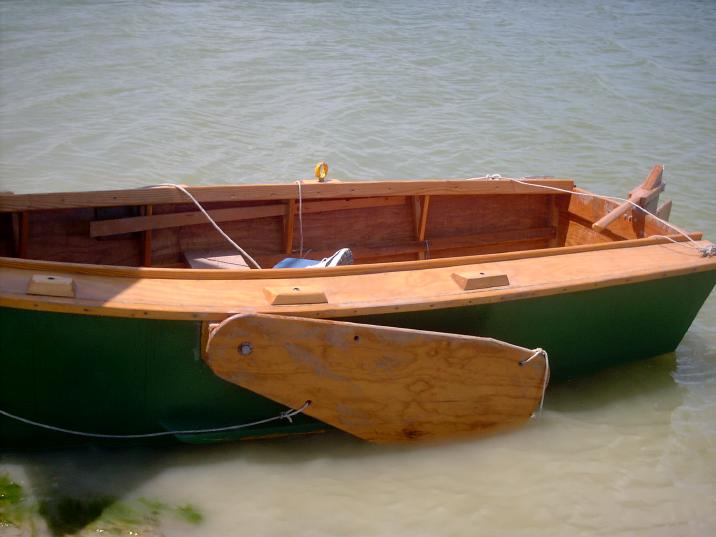 Note the leeboard and rudder are up in this very shallow area.
2:30p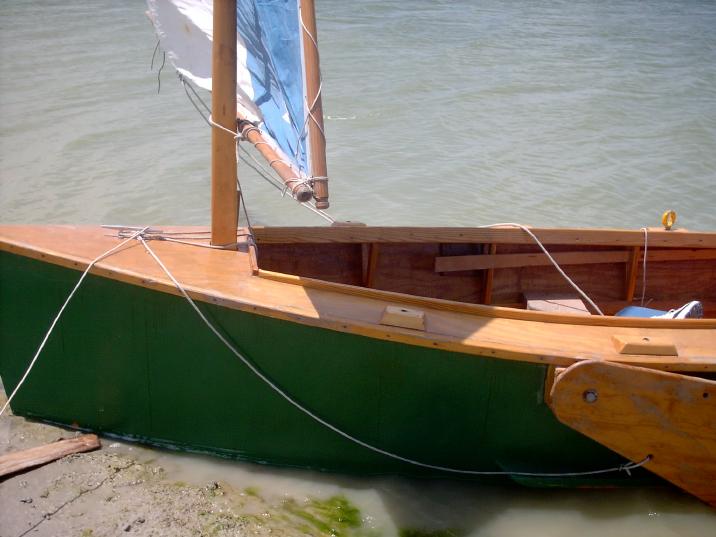 Fore part of the boat. Note driftwood board on wet shore to give a good dryshod way to get back aboard and push off.
We headed back out sailing about 2:30 pm.
The prevailing SE wind took us home on a run.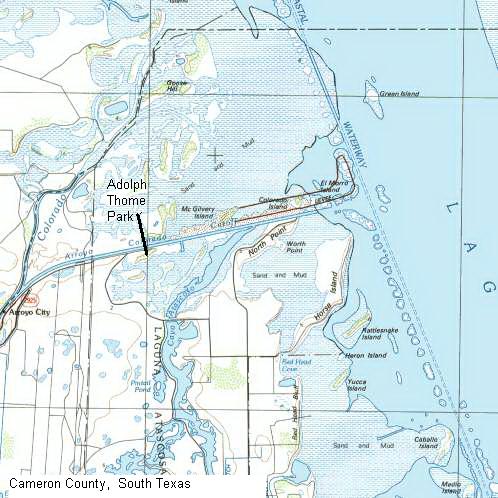 ---
To Mini Voyages index page.

To Home page.