Gulf of Mexico - general Cruising area maps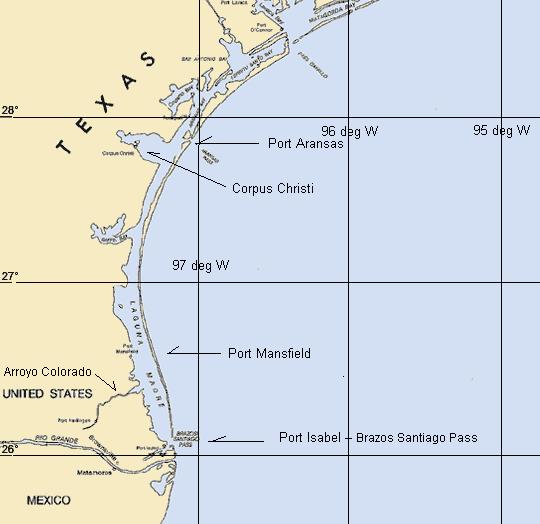 Showing Port Mansfield, a fishing village with connections to the Gulf of Mexico through a cut dredged through South Padre Island (somewhat silted up.)
The Arroyo Colorado - a dredged out creek which is also the Harlingen, Texas barge canal. This is bounded by the Laguna Atascosa Wildlife Refuge, the Adolph Thomae County Park, Arroyo City, TX, Rio Hondo, TX and just east of Rio Hondo, Camp Perry, a Boy Scout Camp.
Port Isabel, and the town of South Padre Island and Brazos Santiago Pass, the entrance to the southern part of the Laguna Madre. This is also the entrance to the port of Brownsville, Texas.
It should be noted that outside the dredged channels the Laguna Madre is a very shallow bay. Much of this area has less than 3 feet (or 1 meter) of water depth.
During most of the year the prevailing wind is from the southeast. In the afternoons when it is warm (most of the year) it usually builds to 20 mph or higher and is steady, not overly gusty.
The northern half of the Gulf of Mexico smaller version.
The Texas coast from Beaumont to Port Isabel/South Padre Island.
The northern half of the Gulf of Mexico larger version - readable text.
---
Detail Maps
Port Mansfield to the Arroyo Colorado in southern Laguna Madre.
Port Mansfield, Texas topographic
Green Island Audubon Society wildlife refuge island in southern Laguna Madre, just north of Arroyo Colorado.
---
City of McAllen Maps
~ ~ ~
Maps sites
NOAA Booklet charts - Gulf of Mexico with links to other places in the coastline of USA - including Puerto Rico and the US Virgin Islands.
NOAA Booklet charts downloadable for nearly the whole coast of USA. They are made for the pleasure-boater.
file size is from 5 MB to 10 MB. Each chart segment is made up of a number of printable pages. They are PDF format.
The URL immediately above was tested April 2013 - is different from the one above which may be an older site for much the same information.
texmaps .com beautiful aerial photos of the Texas coast.
official USGS website for Topographic maps - click on downloadable maps
Topo McAllen area from MapTech

Maptech Maps base place
-
Maptech - Corpus Christi - Ingleside TX
TopoZone Maps index with links to sections of topographic maps.
Online Nautical Charts of coastal USA //demo.geogarage.com/noaa/ - the (+) gives Latitude/Longitude and the map display can be moved to get the coordinates of almost anywhere. does Degrees, minutes and thousanths of minutes. - This site went up mid 2008.
Navionics Nav chart site - online scrolling to most of world.
USGS website - index shows segments of 7.5 minute Topos click on Map Locator index runs with use of Google.
Texas Dept of Transportation Maps (was Highway Dept) http://txdot.gov/inside=txdot/forms-publications/maps.html
Carson Maps - a local map making Company.
---
Charts put out by Mexico for their coast
The URL I found which takes one to a charts page is
http://www.semar.gob.mx/publicaciones/publinau.htm
Then
http://www.semar.gob.mx//menu_publicaciones.htm
also works to a publications page.
---
Africamap project at Harvard actually will get you a fairly good map of almost any place in the world.
Microsoft Maps maps and aerial phot of world - also can download Virtual Earth 3D
Google Maps of world
Return to the homepage.
- update - 8 May 2014