Gelane (Merget) Mittelstaedt's recollections, in her own words, of her childhood
in eastern Wisconsin, north of Milwaukee and south of Sheboygan.
Town of Lima. Adell County.

born - - July 15, 1912
died - - September 13, 2007
List of files:

MERGET General recollections, early recollections,
how the farm was purchased, farm generally,
her grandmother,
MERGET1
MERGET2 Play, corn crib, thistles, smoke house play,
grinding wheel, machine shed, out-building layout,
tools & repairs, doll house & furniture.
MERGET3 Harvesting, threshing
MERGET4 Butchering, sausage making
MERGET5 Thistle cutting, 4th of July, Leo's barn

== =====================



Gelane (Merget) Mittelstaedt's recollections of her childhood.

     (Grandpa) Frank Merget, as a bachelor, stayed and worked on
the (Uncle) Ben Ogle place before he married Margaret Walter.
The drop leaf table was his.  John Kieffer farm.

     The first few years after the marriage (Sept. 30, 1903) they
lived in Sheboygan Falls where he worked at the Richerson Lumber
Co.  Marcella was born in 1905 and Arnold was born in 1909.  He
only lived 17 days.  I was born in 1912.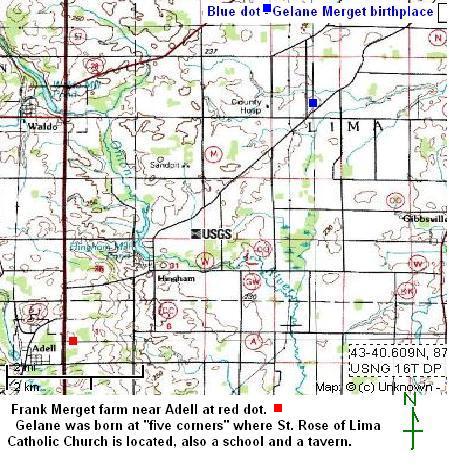 (Great Grandma) Merget wanted Frank to come to the farm at
Five Corners, the homestead, and run the farm.  She would live in
part of the house and he and his family in the rest.  I remember
very little of the homestead except getting a scolding from
Grandma for picking her flowers.  She loved plants and many
flowers.  I remember I had picked carnations.  Another thing I
remember is of being held in a hallway while Dr. Hess was called
because Rufine and I were both sick.

     In 1916 Grandma sold the farm to Jacob Jacoby (Gelane's
Uncle) and Mr. Wisslink, and she moved to Sturgeon Bay, Wisconsin
to live with her daughter, Mary Merget; her other daughter Kate
and her husband lived a few blocks away.  Kate's husband was
Peter Simon who owned the General Store and 80 acres of cherry
orchards which he later sold to the H.C. Prange Store.  In 1915
at the suggestion of Margaret Stroote Dad looked at realestate in
Wausau.   Dad (Frank) made a trip to many places in north central
Wisconsin to find a place to buy.  Years later Ferd Jacoby took
us up to that area and I've been thankful the rest of my life we
never settled there.  It has poor land, is potato country and the
neighbors lived far apart.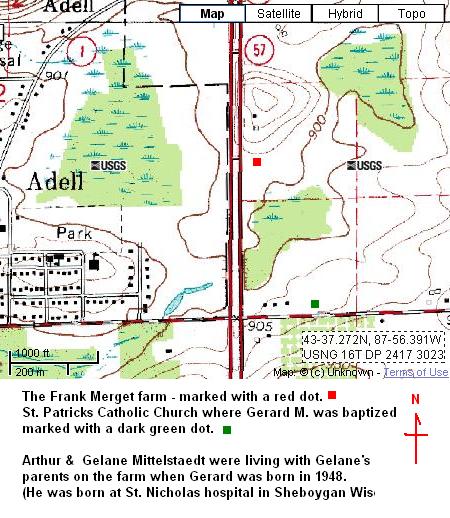 Frank bought the Hiller farm which was 80 acres near Adell.
It was located on one of the hills that surrounded the village of
Adell.  The small hills were named as follows: Zigler, Ludwig on
the west, Donavan Hill on the SE, and Hiller on the East.  There
were 2 roads that led to Adell.  "A" on the south and "I" on the
north.  The road that ran North and South that connected them was
but a lane with grass growing in the center.  The only 2 farms
between A and I were Joe Armstrong's and our farm.  Willows would
hit the buggy as we drove along.

     While we were living on the farm the road was rebuilt 3
times and became Highway 57, a main highway for the Chicago
people to get to their cottages and northern lakes fishing.
Because this is a stony area (the kind of area where the Irish
settled) there were wide stone fences that the road crew didn't
like to move, but put in a curve to avoid moving.  That dodge
worked the first time Hwy 57 was built, but not the second.
South of Donavan Hill was one example of the straightened road.
The Donavan Swamp is where Frank was asked by the Donavan boys to
cut trees for wood.  This project was done on halves (each got
half the lumber).  The logs could only be hauled out when snow
was on the ground.  They were hauled out on a sleigh with horses.
We saw the use of a cant hook during this project.  Dad did this
dangerous work mostly alone.  A few times one of us girls went
along.  I am sure it was mother's prayers and dad's awareness of
the danger of a tree getting hooked up that prevented an accid-
ent.  The logs were put into piles and a saw rig hired.  We would
get every other piece.  It would be stacked up against the north
side of the shed.  It had to be done neatly so it wouldn't tumble
down in bad weather.

     Sometimes in the summer Rufine and I (Gelane) were invited
to stay with Grandma Walter, Aunt Mary and Uncle Jake.  Uncle
Jake ran Grandma's farm at that time.  We enjoyed our visit.
Mornings I remember we would pick yellow transparent apples, the
earliest apple and Aunt Mary made applesauce or apple pie.  One
thing we girls never understood, Aunt Mary always had to walk a
long way to get to the garden in the field.  At our home gardens
were always near the house.  Grandma always set the bread.  One
time a mouse got into the summer kitchen.  She said she would
give me pennies if I set the traps and get the mouse.  I did and
she paid me.  Somehow Grandma had pennies in so many places.
Maybe it was because a butcher and other groceries came in a
horse drawn wagon once a week to sell his wares.  I remember he
spoke German.  He called us Shane and Fine.  We picked flowers
and helped Aunt Mary clean and trim the altar at St. Rose of Lima
Church.  We would walk there and back.  We girls used to tease
Uncle Jake while he was getting ready to see his girlfriend.
When he married Rose Mueller (June 22, 1921) Rufine and I (Gelane) 
were the flower girls.  I was 9 years old then.  Rose did
beautiful embroidery and needle work.  She worked in the needle-
work department at H.C. Prange Co. [department store] 

I remember how we all cried when Uncle Jake was called to the
service during World War I.  (As it happened Rufine and I were
with them at the time.)  John Ogle and Jake Walter left at the
same time.  Neither got overseas but there were tears when we 
said goodbye.

Aunt Mary was so incredible in making all the beds.  I learned
how to put on the pillow cases without getting them wrinkled.
Everything had to be perfect before Aunt Rose came.  She was a
city girl and did well in the things she made so I guess Aunt
Mary wanted to be sure she got a good impression.

When we stayed with Grandma we were allowed to visit Uncle Ben
and Aunt Kate Ogle.  Their house was the neighbor on the south,
just on the other side of Grandma's apple orchard.  When we went
down there we rode with Uncle Ben to take the milk to the cheese
factory at Five Corners.  Once the horse got scared and took off
without Uncle Ben on the seat.  He told us to pull on the reins,
which we did, and the horse stopped.  On a milk wagon there was a
spring seat up in front behind the dash board.  That's where we
sat.  I guess I must have been about 7 years old and Rufine 6.
At night Uncle Ben would play hide and seek with us.  I remember
one time he sat me up on a closet shelf.  Rufine didn't get warm
for a long time looking for me, if I kept quiet.
Aunt Kate and Grandma all had telephones and we didn't, so that
was something new.  There were several families on he same cir-
cuit.  You could listen in hoping they would get off the line so
you could use it.

Uncle Ben Ogle was really a blacksmith.  We watched him shoe a 
horse.  The forge was more interesting, with the bellows to keep
it burning and shaping the shoe or anything he made.  We watched
Aunt Kate ride the hay rake & rake up the hay.  One time way back
in the field.  Joe Scheibl drove his Studebaker car to talk to
Aunt Kate.  He was the cheese maker in Five Corners, who married
Aunt Kate & Uncle Ben's daughter Olive.  Their son John Ogle
worked at the Kohler Co.  He worked in the department where they
made Kohler electric plants.  John could make a tractor go across
the field plowing and turn and come back in the next row without
being in the seat.  He was a good electrician and a mechanic.

Olive and Joe got married April 30, 1921 at St. Rose Church in
Lima.  Fr. Knackert was the pastor.  He called Rufine and me the
Irish girls because we were from St. Patrick's Church.  Ru and I
were flower girls for their wedding.  We were 7 and 8 years old.
What a big day that was!

In 1917 I remember we were down to Grandma Walter's for vacation
in the summer.  We rode with Uncle Jake to the cheese factory.
He hauled the milk to a different cheese factory down near Uncle
John Walter's home.  At that factory there was an evergreen shrub
on 2 sides of the road, just high enough so that you couldn't see
over them.  Rufine, Lucille Walter (who was a little younger than
me and myself, were sitting on the spring seat, which is a little
higher than the dash board, when a car went past on the road
(hidden behind the evergreens).  Cars were very new and few 
peoples owned them.  The horse got scared and ran off. Lucille
was holding a pound of butter and we three got off the seat and
hung on anything we could grab on the floor Uncle George got
dragged a long way before the horse was stopped by an oncoming
farmer.  Uncle George got bruised.

We enjoyed going to Uncle George and Aunt Annie Walter's home.
That is Lucille Feldcamp and Jerome Walter's parents.  They had a
windmill so they didn't have to pump water for the livestock as
we had to.  They had an ice house filled with ice and were never
afraid to skim the cream from a milk can to make ice cream.  They
butchered a cow and had the best dried beef.  It seemed that they
had more money and lots of toys.  Outside, they had a hammock in 
which we used to play.  One time we all got sick - ate too much
ice cream we thought.  Aunt Annie was a great cook.

Aunt Annie raised geese and one time the gander chased us kids.
Aunt Annie grabbed him by the neck and whirled him around a
couple of times and he left us alone after that.

One summer after I started school the year before, I didn't want
to go home.  Aunt Mary got a letter, my parents were coming to
pick me up.  I decided to hide so I didn't have to go home.  As I
was small I hid behind a floor pillow between a chimney and the
organ. They couldn't find me.  They called Aunt Kate to see if I
walked down there.  Then she got Uncle Jake to look in an old 
well to see if I was there.  She kept calling, "Gelane if you
come you won't be punished," I finally said "Here I am" and ran
to the bedroom under the bed.  She found me.  It was time to go
home and get ready for school, this meant new shoes, as I outgrew
the others and got new clothes.  Mother and Marcella made dresses
that needed fitting.

Every year the 10 Walter children and grandchildren would come
home to the Walter homestead to celebrate Grandma's birthday.  It
was always a big crowd - 7 boys - 3 girls.  Sometimes it was at
Lake Michigan, but that was a bit cold in June.  Everyone helped
but it seems Grandma furnished the meat and most of the meal.  I
never could understand how they got all the food made.  Most were
good cooks.

At Christmas Grandma had sacks of goodies for each child.  She
loved the little children.  Her 75th birthday was the biggest!
John Ogle, who worked at Kohler Co. strung electric lights out-
side and had an electric Kohler plant to run the lights.  It was
the biggest affair.  Tables, chairs and benches were setup out-
side.  A real banquet was served.  One child bumped Grandma's
foot and it never healed.  She had diabetes which no one knew.
The injury turned gangrenous in the toe.  With the pain she
wouldn't go to bed.  Frank Merget and Uncle Ben, using the big
rocking chair, put wheels on it to use as a wheelchair.

Aunt Mary and Marcella took care of her in the daytime.  Nights a
son or daughter's family took care of her so Aunt Mary could get
some rest.  By that time we had our first car, a Chevrolet with 2
round windows in back.   During our turn the whole family drove
down after supper.  We children slept in beds upstairs and Grand-
mas while Mom and Dad stayed up with Grandma.  She couldn't stand
the bed with all the pain she had so slept if any in the rocking
chair/wheel chair.  In the wee hours of the morning we were
awakened for the ride home.  Dad milked cows, mom fed the chick-
ens and we children went off to school.  During Christmas vaca-
tion we went up every day.

  A decision was made that to raise more livestock it would be 
necessary to make the barn bigger the barn needed to be raised so
dad (Frank) could have one long row of cows or 3 horse stalls on
the east side, but we had only horses feed on the north with a
calf pen on  N. a stairway from upper barn on center N.  Timber
would cost an immense price, so dad bought a few acres of timber
land in Winenoaski swamp.  There were several different owners
and each could tell by the blazing of the trees their own proper-
ty line.  We had to go through another man's woods to get there.
Only in the winter could this be done because a sleigh was needed
to haul out the timber.  Dad sawed the trees down and by means of
a plane, cant hooks and crowbar.  Rufine helped saw down the
trees and drove the horses snaking them out.  Mother worried that
a branch would snag and he'd be hit alone up there.  Late in the 
day he'd have a load of logs ready and haul it home.  A man was
hired with a saw rig who cut the timbers into 12x12 or 14x14
timbers.  What Dad did not need he sold to Mr. Gum for his new
barn

The big day came when the raising crew arrived.  The man who was
hired, Mr Schu and sons, who were neighbors to John Ogle of
Sheboygan Falls.  Jacks were put under the barn and each man
turned the jack with pipes.  Masons were hired and put up the
wall.  That took the longest.  Then the jacks were removed when
the wall was dried or cured.  It was at this time Dad (Frank) was
at a jack and a piece of steel broke off and stuck into his eye.
Marcella tried to harness the horse.  She was a little too small
but Dad helped some and Ned, the horse, was hitched up.  He drove
alone over to see Dr. Hess.  Mrs. Hess was a nurse and when she
saw the eye, told Dad to go home and come early the next day
before Doc made the rounds at the tavern so that his hands would
be steady to cut out the steel in his eye.  Can you believe it,
Dad never had trouble with that eye and only had a country doctor
take care of it with a Dr's wife who knew the capabilities of her
husband.

By the way, the Hess family were well thought of in the village
of Adell.  They had an adopted daughter, Hattie, twins Eunice and
Eugene and a much younger little girl Margaret.  When the twins
had a birthday the whole school was invited to the party.  It was
held in the fire hall upstairs.  Once they had a one man band
play.

At school there were two rooms 1-4th grade and upper 5-8th.  My
first 4 years I had Margaret Keys as my teacher.  We loved her.
She was from Milwaukee and boarded at Frank Lamb's home.  She was
the inspiration that encouraged me to become a teacher.  Their
schoolrooms were heated with a "round oak" heaters.  I guess it
could be called a pot bellied stove.  During the winter I know
they made hot cocoa, heating the milk on the only place on the
top where a kettle of water was kept to keep moisture in the
room.  I remember hiding behind the stove jacket to eat crdy [candy] ... 
------ ---
 (- garbled text - bad part of file -) 
------ ---
 ....   A little north was a beautiful white oak tree.
Down in this direction is where a group of farmers got together and
had a ditch dug to drain this part of the low land.  It went way
over to Adell.  The ditching was done shortly after we moved to
the farm.  A rather costly but worthwhile investment.

--- 

     (Grandpa) Frank Merget, as a bachelor, stayed and worked on 
the (Uncle) Ben Ogle place before he married Margaret Walter.  
The drop leaf table was his.  John Kieffer farm.

     The first few years after the marriage (Sept. 30, 1903) they 
lived in Sheboygan Falls where he worked at the Richerson Lumber 
Co.  Marcella was born in 1905 and Arnold was born in 1909.  He 
only lived 17 days.  

     (Great Grandma) Merget wanted Frank to come to the farm at 
Five Corners, the homestead, and run the farm.  She would live in 
part of the house and he and his family in the rest.  I remember 
very little of the homestead except getting a scolding from 
Grandma for picking her flowers.  She loved plants and many 
flowers.  I remember I had picked carnations.  Another thing I 
remember is of being held in a hallway while Dr. Hess was called 
because Rufine and I were both sick.

     In 1916 Grandma sold the farm to Jacob Jacoby (Gelane's 
Uncle) and Mr. Wisslink, and she moved to Sturgeon Bay, Wisconsin 
to live with her daughter, Mary Merget; her other daughter Kate 
and her husband lived a few blocks away.  Kate's husband was 
Peter Simon who owned the General Store and 80 acres of cherry 
orchards which he later sold to the H.C. Prange Store.  Dad 
(Frank) made a trip to many places in north central Wisconsin to 
find a place to buy.  Years later Ferd Jacoby took us up to that 
area and I've been thankful the rest of my life we never settled 
there.  It has poor land, is potato country and the neighbors 
lived far apart.

     Frank bought the Hiller farm which was 80 acres near Adell.  
It was located on one of the hills that surrounded the village of 
Adell.  The small hills were named as follows: Zwigler, Ludwig on 
the west, Donavan Hill on the SE, and Hiller on the East.  There 
were 2 roads taht led to Adell.  "A" on the south and "I" on the 
north.  The road that ran North and South that connected them was 
but a lane with grass growing in the center.  The only 2 farms 
between A and I were Joe Armstrong's and our farm.  Willows would 
hit the buggy as we drove along.

     While we were living on the farm the road was rebuilt 3 
times and became Highway 57, a main highway for the Chicago 
people to get to their cottages and northern lakes fishing.  
Because this is a stony area (the kind of area where the Irish 
settled) there were wide stone fences that the road crew didn't 
like to move, but put in a curve to avoide moving.  That dodge 
worked the first time Hwy 57 was built, but not the second.  
South of Donavan Hill was one example of the straighned road.  
The Donavan Swamp is where Frank was asked by the Donavan boys to 
cut trees for wood.  This project was done on halves (each got 
half the lumber).  The logs could only be hauled out when snow 
was on the ground.  They were hauled out on a sleigh with horses.  
We saw the use of a cant hook during this project.  Dad did this 
dangerous work mostly alone.  A few times one of us girls went 
along.  I am sure it was mother's prayers and dad's awareness of 
the danger of a tree getting hooked up that prevented an 
accident.  The logs were put into piles and a sawrig hired.  We 
would get every other piece.  It would ge stacked up against the 
north side of the shed.  It had to be done neatly so it wouldn't 
tumble down in bad weather.

     Sometimes in the summer Rufine and I (Gelane) were invited 
to stay with Grandma Walter, Aunt Mary and Uncle Jake.  Uncle 
Jake ran Grandma's farm at that time.  We enjoyed our visit.  
Mornings I remember we would pick yellow transparent apples, the 
earliest apple and Aunt Mary made applesauce or apple pie.  One 
thing we girls never understood, Aunt Mary always had to walk a 
long way to get to the garden in the field.  At our home gardens 
were always near the house.  Grandma always set the bread.  One 
time a mouse got into the summer kitchen.  She said she would 
give me pennies if I set the traps and get the mouse.  I did and 
she paid me.  Somehow Grandma had pennies in so many places.  
Maybe it was because a butcher and other groceries came in a 
horse drawn wagon once a week to sell his wares.  I remember he 
spoke German.  He called us Shane and Fine.  We picked flowers 
and helped Aunt Mary clean and trim the altar at St. Rose of Lima 
Church.  We sould walk there and back.  We girls used to tease 
Uncle Jake while he was getting ready to see his girlfriend.  
When he married Rose Mueller (June 22, 1921) Rufine and I 
(Gelane) were the flower girls.  I was 9 years old then.  Rose 
did beautiful embroidery and needle work.  She worked in the 
needlework department at H.C. Prange Co.

I remember how we all cried when Uncle Jake was called to the 
service during World War I.  (As it happened Rufine and I were 
with them at the time.)  John Ogle and Jake Walter left at the 
same time.  Neither got overseas but there were tears when we 
said goodby.

Aunt Mary was so incredible in making all the beds.  I learned 
how to put on the pillow cases without getting them wrinkled.  
Everything had to be perfect before Aunt Rose came.  She was a 
city girl and did well in the things she made so I guess Aunt 
Mary wanted to be sure she got a good impression.

When we stayed with Grandma we were allowed to visit Uncle Ben 
and Aunt Kate Ogle.  Their house was the neighbor on the south, 
just on the other side of Grandma's apple orchard.  When we went 
down there we rode with Uncle Ben to take the milk to the cheese 
factory at Five Corners.  Once the horse got scared and took off 
without Uncle Ben on the seat.  He told us to pull on the reins, 
which we did, and the horse stopped.  On a milk wagon there was a 
spring seat up in front behind the dash board.  That's where we 
sat.  I guess I must have been about 7 years old and Rufine 6.  
At night Uncle Ben would play hide and seek with us.  I 
remember one time he sat me up on a closet shelf.  Rufine 
didn't get warm for a long time looking for me, if I kept quiet.  

Aunt Kate and Grandma all had telephones and we didn't, so that 
was something new.  There were several families on he same 
circuit.  You could listen in hoping they would get off the line 
so you could use it.

Uncle Ben Ogle was realy a blacksmith.  We watched him shoe a 
horse.  The forge was more interesting, with the bellows to keep 
it burning and shaping the shoe or anything he made.  We watched 
Aunt Kate ride the hay rake & rake up the hay.  One time way back 
in the field.  Joe Scheibl drove his Studebecker car to talk to 
Aunt Kate.  He was the cheese maker in Five Corners, who married 
Aunt Kate & Uncle Ben's daughter Olive.  Their son John Ogle 
worked at the Kohler Co.  He worked in the department where they 
made Kohler electric plants.  John could make a tractor go across 
the field plowing and turn and come back in the next row without 
being in the seat.  He was a good electrician and a mechanic.

Olive and Joe got married April 30, 1921 at St. Rose Church in 
Lima.  Fr. Knackert was the pastor.  He called Rufine and me the 
Irish girls because we were from St. Patrick's Church.  Ru and I 
were flower girls for their wedding.  We were 7 and 8 years olf.  
What a big day that was!

In 1917 I remember we were down to Grandma Walter's for vacation 
in the summer.  We rode with Uncle Jake to the cheese factory.  
He hauled the milk to a different cheese factory down near Uncle 
John Walter's home.  At that factory there was an evergreen shrub 
on 2 sides of the road, just hight enough so that you couldn't 
see over them.  Rufine, Lucille Walter (who was a little younger 
than me and myself, were sitting on the spring seat, which is a 
little higher than the dash board, when a car went past on the 
road (hidden behind the evergreens).  Cars were very new and few 
peoples owned them.  The horse got scared and ran off. Lucille 
was holding a pound of butter and we three got off the seat and 
hung on anything we could grab.  On the floor Uncle George got a 
drag a long way before the horse was stopped by an oncomming 
farmer.  Uncle George got bruised.

We enjoyed going to Uncle George and Aunt Annie Walters home.  
That is Lucille Feldcamp and Jerome Walters parents.  They had a 
windmill so they didn't have to pump water for the livestock as 
we had to.  They had an ice house filled with ice and were never 
afraid to skim the cream from a milk can to make ice cream.  They 
butchered a cow and had the best dried beef.  It seemed that they 
had more money and lots of toys.  Outside, they had a hammock 
in which we used to play.  One time we all got sick - ate too 
much ice cream we thought.  She was a great cook.

Aunt Annie (Jacoby) raised geese and one time the gander chased 
we kids.  Aunt Annie grabbed him by the neck and whirled him 
around a couple of times and he left us alone after that.

One summer after I started school the year before, I didn't want 
to go home.  Aunt Mary got a letter, my parents were comming to 
pick me up.  I decided to hide so I didn't have to go home.  As I 
was small I hid behind a floor pillow between a chimney and the 
organ. They couldn't find me.  They called Aunt Kate to see if I 
walked down there.  Then she got Uncle jake to look in an old 
well to see if I was there.  She kept calling, "Gelane if you 
come you won't be punished," I finally said "Here I am" and ran 
to the bedroom under the bed.  She found me.  It was time to go 
home.  Get ready for school this ment new shoes, as I outgrew the 
others and got new clothes.  Mother and Marcella made dresses 
that needed fitting.

Every year the 10 Walter children and grandchildren would come 
home to the Walter homestead to celebrate Grandma's birthday.  It 
was always a big crowd - 7 boys - 3 girls.  Sometimes it was at 
Lake Michigan, but that was a bit cold in June.  Everyone helped 
but it seems Grandma furnished the meat and most of the meal.  I 
never could understand how they got all the food made.  Most were 
good cooks.

At Christmas Grandma had sacks of goodies for each child.  She 
loved the little children.  Her 75th birthday was the biggest!  
John Ogle, who worked at Kohler Co. strung electric lights 
outside and had an electiic Kohler plant to run the lights.  It 
was the biggest affair.  Tables, chairs and benches were setup 
outside.  A real banquet was served.  One child bumped Grandma's 
foot and it never healed.  She had diabetes which no one knew.  
The injury turned gangarineus in the toe.  With the pain she 
wouldn't go to bed.  Frank Merget and Uncle Ben, using the big 
rocking chair, put wheels on it to use as a wheelchair.  Aunt 
Mary and Marcella took care of her in the daytime.  Nights a son 
or daughter's family took care of her so Aunt Mary could get some 
rest.  By that time we had our first car, a Chevrolet with 2 
round windows in back.

Christmas vacation we went up every day.  A decision was made 
that to raise more livestock it would be necessary to make the 
barn bigger the barn needed to be raised so dad (Frank) could 
have one long row of cows or 3 horse stalls on the east side, but 
we had only horses feed on the north with a calf pen on  N. a 
stairway from upper barn on center N.  Timber would cost an 
immense price, so dad bought a few acres of timber land in 
Winenoaski swamp.  There were several different owners and each 
could tell by the blazing of the trees their own property line.  
We had to go through another man's woods to get there.  Only in 
the winter could this be done because a sleigh was needed to haul 
out the timber.  Dad sawed the the trees down and by means of a 
plane, cant hooks and crowbar.  Rufine helped saw down the trees 
and drove the hourses snaking them out.  Mother worried that a 
branch would snag and he'd be hit alone up there.  Late in the 
day he'd have a load of logs ready and haul it home.  A man was 
hired with a saw rig who cut the timbers into 12x12 or 14x14 
timbers.  What Dad did not need he sold to Mr. Gum for his new 
barn

The big day came when the raising crew arrived.  The man who was 
hired, Mr Schuk and sons, was a neighbor to John Ogle of 
Sheboygan Falls.  Jacks were put under the barn and each man 
turned the jack with pipes.  Masons were hired and put up the 
wall.  That took the longest.  Then the jacks were removed when 
the wall was dried or cured.  It was at this time Dad (Frank) was 
at a jack and a piece of steel broke off and stuck into his eye.

Marcella tried to harness the horse.  She was a little too small 
but Dad helped some and Ned, the horse was hitched up.  He drove 
alone over to see Dr. Hess.  Mrs. Hess was a nurse and when she 
saw the eye, told Dad to go home and come early the next day 
before Doc made the rounds at the tavern so that his hands would 
be steady to cut out the steel in his eye.  Can you believe it, 
Dad never had trouble with that eye and only had a country doctor 
take car of it with a Dr's wife who knew the capabilities of her 
husband.

By the way, the Hess family were well thought of in the village 
of Adell.  They had an adopted daughter, Hattie, twins Eunice and 
Eugene and a much younger little girl Margaret.  When the twins 
had a birthday the whole school was invited to the party.  It was 
held in the fire hall upstairs.  Once they had a one man band 
play.   

At school there were two rooms 1-4th grade and upper 5-8th.  My 
first 4 years I had Margaret Keys as my teacher.  We loved her.  
She was from Milwaukee and borded at Frank Lamb's home.  She was 
the inspiration that encouraged me to become a teacher.  Their 
schoolrooms were heated with a jacket around.  I guess it could 
be called a pot bellied stove.  During the winter I know they 
made hot cocoa, heating the milk on the only place on the top 
where a kettle of water was kept to keep moisture in the room.  I 
remember hiding behind the stove jacket to eat cream puffs mom 
made.  I didn't want to exchange them with anyone.

Games played at recess and noon hour were Andy Andy over the roof 
of the school, but it was seldom the girls could throw the ball 
over as it was rather high.  In the snow it was fox and goose, 
snow ball fights, baseball and some game where you hit a tin can, 
swings, teeter totter and giant stride.  One year the big kids 
would go to Patonkuff's low land that was ditched and skate on 
the ice.  We never sent.  Some noon hours we played cards.

There were no indoor toilets.  On some Halloweens the boys would 
lift the girl's toilet (outhouse) on top of the school roof.  
the School Board would come and get it down.  They also tipped 
over the boy's outhouse.

When our barn basement was enlarged we bought more cows.  Silage 
was the food in the winter.  A Plymouth company was hired to put 
up our silo, which seemed very tall to me.  It was painted grey.  
Somehow it leaked and caused the silage to spoil - not good for 
livestock.  When they were called they put another row of boards 
on it.  A silage cutter was bought, carried to the top of the 
silo (Dad always did the climbing and put it up also for 
neighbors, as he wasn't afraid of heights.)  and a big gasoline 
engine.  Dad was not a mechanic enough to keep it running well.

The piece of land next to the silo was used to raise calves.  
Years later it was a garden where we planted potatoes, beans etc.  
White navy beans were raised as a cash crop.  Winter evenings 
they were poured on the table, with an "Aladin" Lamp in the middle 
of the table to provide good light, we picked out the good beans 
and sold them.  (The thrashing system selected anything of the 
right size.  The final sorting was a process that had to be done 
by hand.)  We had sticks of wood dividing the beans coming down 
to each picker.  The orchard (between the trees) was cut with a 
sythe and the grass was fed to the livestock.  When we started 
going out we cut the whole thing with a reel type lawn mower, 
unpowered, the kind you have to push to have it cut.

When Borden took over the milk plant all farmers had to build a 
milk house.  To cool the milk we had to pump water down to the 
milk house.  From there the water ran into the livestock tank in 
the cattle yard.  I use the shut off (a cast iron cap) as a 
doorstop in my house today.  Can you imagine pumping 500  strokes 
each  day Rufine and I took turns and sometimes Dad. But he  did 
it all when we went to school.  There was a long lane with stones 
on  sides  where the cows went to graze in  the  fields.   Snakes 
slithered  on some of the huge stone

--- 

Gelane (Merget) Mittelstaedt's reminiscences - part 2

  We used to play house in the corn crib when it was empty in the 
summertime.  As this was nearer to where pigs used to be raised 
we found large plants of bull thistles.  There were two colors, 
white and lavender.  We used to pick off the blossoms and make 
baskets as they stuck together easily.  We also made mud pies 
using our set of tin dishes and decorated our cakes with weed 
seed.

  One winter Dad built a smoke house on the barn floor.  When he 
moved it up near the house near the stone fence, we girls used it 
as a playhouse.  We found some boards and a ladder and put in a 
second floor.  Many happy hours were spent there with the tin 
dishes.  Somehow we even made a sink.  After the smokehouse was 
used a few years smoking sausage, ham and bacon the smoke smell 
was too strong to be playing in it.  Also, by that time we were 
older.

  Dad owned a stone grinding wheel that was operated with the 
foot.  It had a place where the water (to cool and lubricate the 
item sharpened) was poured in so the wheel would go through the 
water to aid in the grinding.  The scythes had to be sharpened 
often as Dad cut the orchard grass using the scythes and fed it 
to the cows during milking time.  The cows also got ground meal 
at that time.  If mother was too busy Dad would sit Rufine and me 
on the feed box and whistle songs while we sang.  The cows seemed 
quiet and enjoyed Dad's whistling.  The grinding wheel was also 
used to make the thistle cutters from old binder sickle bars.  
Sometimes, because of stones, a section of the teeth of the 
binder were broken.  Dad riveted in new pieces.  We girls were 
also around watching him fix the harnesses.

  The farm had a large machine shed.  On the south side was the 
chicken coop.  This part was plastered and sprayed with white 
wash every year to control disease among the chickens, and maybe 
lice.  Next to the chicken coop was the place for the milk wagon.  
On the north side was the garage for the 1922 Chevrolet car.  I 
never understood how all the implements were stored between those 
two places.  They included a corn binder, corn planter, binder, 
seeder, hay rake, wagon, stone boat, plow, surrey, buggy, cutter, 
sleigh, and mower.

  The surrey was never kept long.  The place where the car was 
kept also was where the tool box was stored.  It contained noth-
ing like the tools a carpenter has now, but Dad knew how to use 
what he had. (Hand tools)  He made a beautiful doll house of 
wood.  He had a round table for the dining room, chairs and 
rocking chair, etc.  We were to get it for Christmas, but I found 
the rocking chair while I was dusting the china cupboard.
  He also made a magazine rack, which was used as an end table 
after I decided we needed a davenport in the front room, when I 
started teaching.  The runner on the birch rocking chair was 
another thing I remember Dad fixed or replaced.  I have come to 
the conclusion that a farmer years ago had to be versatile in 
many occupations in order to keep things running smoothly or go 
into debt trying to pay someone to fix them.

=====

Gelane (Merget) Mittelstaedt's reminiscences - Threshing  pt.3

 About August (every year) the grain started to ripen.  The 
thistles were cut in June and now the grain binder had to be 
taken out of the machine shed.  The mower bar was checked to see 
if all the sections were in order.  If not new (parts) had to be 
riveted in place.  This is a job Dad did very well.  Twine was 
bought  and put in the binder and all chains and canvas that 
brought the cut grain up and tied it into bundles was checked.  
It seemed that the binder was the hardest machine to keep in good 
running order, and the most expensive.  After the grain was cut 
and put in bundles the bundles had to be set up on shocks, usual-
ly by Marcella and Dad, after he cut a field.  Our family usually 
made a shock of 3 bundles on one side and 3 opposite with one 
bundle on top.  If we had rain we had to throw the shocks apart 
so they dried. It was then hauled on a hay rake up to the barn 
and a huge stack was built with the grain side turned to the 
inside to protect it from rain.  This is where the whole family 
helped.  Dad pitched the bundles up and we reset it away always 
facing the grain to the center.  In making the stack, depending 
on the amount of grain, the size of the stacks were built.
  - - 
Toward the top you always set the bundles in a little farther to 
seal the stack.  Sometimes we had 3 stacks.  When the steam 
engine thresher, John Scanlon, came he had a trough or canvas 
carrier where the men threw in the bundles and delivered it to 
the thresher.  Also one man was needed to build the straw stack, 
which was on the other side (south side) of the barn. The blower 
blew the straw there.  The poor man taking care of that job was 
usually Dad, who was covered with dust and dirt from the blower.  
He usually wore a handkerchief over his nose to keep some of the 
dust out.  With the seam engine thresher we always needed more 
men.  Also coal used to run the thresher was expensive.  When it 
(the thresher) left the yard, lawn and the place where the coal 
pile was needed to be cleaned up, as well as the ashes.  Mother 
never liked it after we had a gasoline thresher hired.

  Indoors was always a bustle of excitement getting ready for the 
threshers' meals.  Lunch had to be served around 10:00 A.M.  
Sandwiches, cake and coffee etc.  Noon it was beef roast, po-
tatoes and gravy, cabbage slaw (our first cabbage of the season 
was ready) and mother cut it so fine they always liked it. (Note: 
a fine cut in slaw was considered a very good thing.)  I can't 
remember the several vegetables we had plus cucumber salad the 
men raved about which was made with sour cream.  What we girls 
liked was beef roast, which we seldom got the rest of the year.  
It was too expensive.

  It was a blessing when combines became available. (This machine 
did much of the work of the threshing.)  There was much less 
work.  The only trouble you had was couldn't always get one when 
you needed and a rainy session might arrive and grain lodge and 
lost most of the grain on the ground.  After a combine went 
through if you wanted the straw it had to be cut by mower, raked 
and hauled in.

--- 

Gelane (Merget) Mittelstaedt's reminiscences - part 4

  During the cold winter, often in January, the whole household 
got ready for butchering (a hog).  The meat grinder and big sau-
sage stuffer and wash boiler (the one used only for meat) was 
gotten ready.  Often a cousin, Ferd Jacoby, came up to aid Dad.  
A big barrel with boiling water was in the machine shed.  A pully 
and rope was used to let the animal in so the hair could be 
removed from the carcass.  None of us children were allowed to 
watch.  The blood was caught in a pan and had to be stirred for 
some time and brought to the house for blood sausage.  By evening 
it had cooled enough so that it was cut apart and taken to the 
cellar.  The head was cooked and meat cut in long strips for head 
cheese.  That usually had pepper in bigger pieces I used to take 
out.   Head cheese usually seemed to have a lot of geletin.  
Liver sausage had to be ground - liver and other meat together 
and often put into sausage casings made of small intestines.  
Blood sausage was made using some of the fatter meat parts.    

  Preparation of sausage casings was a big job Mother did.  To 
clean them she used a knife - not a sharp one - and scraped them 
on a board, then using a funnel, she turned them inside out and 
cleaned the other side until they were thin and clean.  They 
were kept in saltwater until used.

  Another sausage was Krautwurst, using boiled cabbage, blood and 
meat.  When most of the sausages were made the folks bought 
ground beef which they mixed with port and seasoning.  This was 
put into the sausage stuffer.  With one person turning the crank, 
another feeding the casing so there are no air pockets.  Often a 
long hat pin was used.  The sausages were hung on sticks to dry 
out a bit then smoked in the smokehouse.

  When the other sausages were cooked in the wash boiler 
sometimes they would break and the meat lost.  Not with my par-
ents!  The meat from broken sausages was used to make _______ .  
Buckwheat flour was stirred in and cooked.  It was put in earthen 
dishes, not too deep.  When cold it was sliced, fried and eaten 
for breakfast with fried krautworst - a good meal on a cold 
morning.  The pigs feet were sometimes pickled and put into jars.  
At other times they were used in sausage that needed gelatin to 
hold it together.

  The side pieces of the pig were soaked in a salt brine.  It 
seems I used to see mother test the brine with an egg. (When the 
egg floated it was salty enough.)  Also the shoulders were pre-
pared and strung up with two to a broom stick.  All of this meed 
had to be smoked in the smokehouse.  Each morning a fire was 
started and sawdust put on and meat carried out to smoke.  In the 
evening the meat was brought in.  It seemed that the folks never 
trusted leaving it out overnight because of animals.

  Yes, that was a lot of work which had to be done in a short 
time because we didn't have a refrigerator.  It was usually one 
A.M. in the morning working and then up as usual in the morning 
to get to school.

  A few years later we bought a tin canner.  The trouble with 
that was boiling the cans and then quick cooling.  Of course if 
it was cold weather it was no trouble.

  After the meat was taken care of, came the rendering of the 
fat, making it into lard.  This was dangerous because of fire and 
spattering of very hot lard.  It had to have a slower fire (on 
the wood stove) and not let it get too brown.  A cloth was tied 
over 5 gallon earthen tubs and the hot lard poured through the 
cloth so small cracklings (bits of meat) wouldn't get into the 
tub (crock).  With fat pigs we'd have enough lard to fill perhaps 
4 such crocks full.  It was used for frying, and making pie and 
cakes.  Even bratwurst were sometimes put into mason jars filled 
with grease to preservethem.  However we didn't make them each 
time we butchered.

  Sometimes we butchered chickens when they were not laying many 
eggs.  They were caught the day before.  Dad would help dipping 
them in the hot water bath and hung up on a pole.  With a few 
strips of our hands most of the feathers were off.  You could not 
leave them get cold.  Again if one didn't hurry it would be more 
hot water for scalding.  We got to be very good at it.  If we 
were selling them at H.C. Prange, in Sheboygan, each neck had to 
be wrapped in brown paper and the liver, heart and gizzard put 
back into the chicken.  This trade with the store in town was 
another way we were able to purchase our clothes and groceries we 
didn't raise.

--- 

Gelane (Merget) Mittelstaedt's reminiscences - part 5

                         Fourth of July

  There is a county or town law that thistles must be cut or 
destroyed in fields of grain.  Dad usually raised barley, oats, 
and very seldom wheat.   Thistles would come up.  In order to 
keep them in control they had to be cut out without spoiling the 
grain.  Thistle seeds have a floating device of plumes, looking 
like a parachute floating in the air.  On windy days, when ripe, 
they carry a distance to other neighbors.  Dad made thistle 
cutters from old mower bars.  The knife blades were usually 10 to 
16 inches long and were sharpened on the stone grinder.  A broom 
handle or some lighter wood handle was riveted on the blade.  The 
lighter the instrument, the easier it was for us girls to use.

  To get ready for the work, which was usually after the morning 
dew was gone, we dressed in a broad had to cover our face.  On 
our arms we pulled stockings and safety pinned them to our short 
sleeved dresses.  Why we didn't wear long sleeved shirts I do not 
know.  Can you imagine the sight we were to -city folks- with 
these black stockings on our arms?  Black was worn because we had 
more worn out black stockings, the color we wore in winter.  
Toes were cut off and the heel cut open for a thumb hole.  
There we were, four of us in a row, crossing the field from one fence 
to the other cutting the "Canada thistles."  I understand that now 
here in Texas the Bull Thistle is protected - hard to believe!  

When we were near the highway side of the field the people in 
cars sometimes waved at us.  Usually it was an Illinois car on 
the way to their summer cottage on the Wisconsin lakes in the 
north.  We would look for the license to see what state the cars 
were from.  A waving hand changed the monotony of the job.

  If we finished cutting thistles before July we would celebrate.  
A big lunch was packed with a stuffed pigeon for each of us.  At 
Lake Ellen there were often contests for children, such as bag 
races, three legged races, potato races etc.  One year Rufine won 
a whole manicure set.  Often some of the relatives also enjoyed 
the day there.  We never could stay for the fireworks because the 
cows needed to be milked and chickens fed so we had to go home.

  After chores we sometimes went to visit Uncle Jo and Aunt Mary 
Walter who lived a little out of the village of Hingham.  If we 
hit the right time we could see the Sheboygan fireworks on the 
highest hill, Lyman Hill, which we needed to go down to get to 
Uncle Joe's.  There were three children, Aloys, who was my age, 
Leo who was Rufine's age, and Marie, younger than Coletta.  
They lived on a farm owned by the Baldwins, who was a beekeeper.  
The bee hives were in an orchard east of their house.  They never 
bothered us as we played outside.  Because this was near Onion 
River there were always more fireflies than on our farm.  
We would take "Old Dutch" cans and cut a window and put in screen 
to put in fireflies as a make-believe lantern.

  One night lightning hit their barn and burned it to the ground.  
Leo could see the flames from his bedroom window.  We were not 
visiting that night.

---  


-

Family Index file